Demographics help stores pitch you a sale before you even walk through the door. These days, you can even figure out who's dining where and why.
The highlights of the study
According to a new survey conducted by research firm E-Poll Marketing Research, older generations are more likely to dine out at more familiar service-chain restaurants compared to millennials, who are more prone to hit trendy new spots.
This information is based on a survey of 1,500 people ages 13 and up. Participants were asked how likely they were to try food items served at 25 limited-service chain restaurants, reported The Nation's Restaurant News.
Here are more specific results, as stated by NRN.
Participants between the ages of 18 – 34 either somewhat or strongly agreed that they'd try new items or services from Starbucks, Panera Bread, Chick-fil-A and Dairy Queen. These restaurants received the highest number of votes in regards to the question, in that order.
Baby boomers or people ages 51 to 69 and Generation Xers – people ages 35 to 50 – listed Dairy Queen, Wendy's, Subway and Dunkin' Donuts as the top locales where they'd be most likely to sample new foods or services.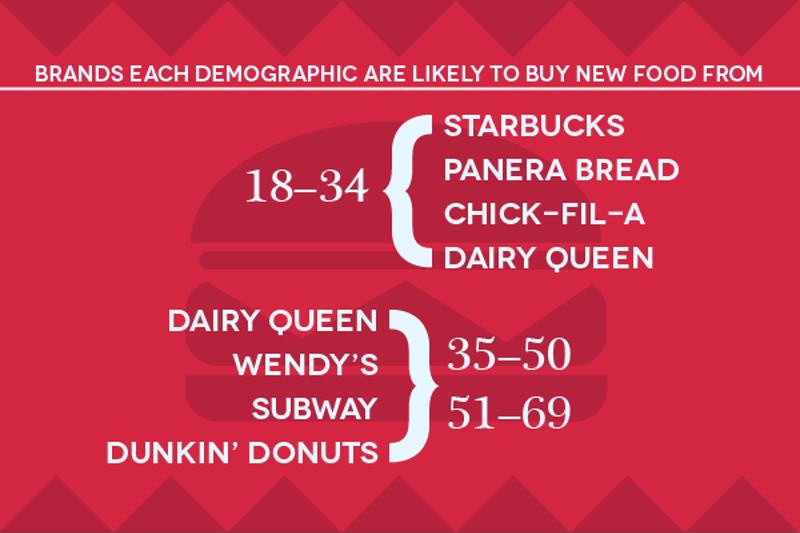 What does it mean?
These results are important. However, figuring out your next steps can be a challenge. For instance, should a restaurant market to the demographic that is supporting the business or aim to reach an audience that isn't investing in its products? The right answer could be a little bit of both.
"Success lies in giving your audience what they want."
Many marketers would tell you that success lies in giving your audience what they want. However, driving new business to your company is important as well. You should strive to reach the demographic that's truly interested in what you have to offer and also make small efforts to reach new customers.
Here are some marketing pointers from Inc. magazine.
Allocate time to describing your product. For example, tell your patrons the origin of the food, cooking method and anything that's special about it. How you tell the world about it means everything. Don't be afraid to tie it to the greater good like sustainability.
Make something that solves a problem. Mimic Snuggie's strategy by making a quirky product that actually works. This can take a seemingly normal product and transform it into a pop culture phenomena.
Turning your skeptics into supporters is a great way to get some hype around a new product. For example, revamp a food that's typically lowbrow to be a delicacy. Putting a new spin on gives you a better chance are some media exposure.
Leverage research and professional pointers to captivate your audience and expand your client base. After all, wouldn't you want people to test out your new food and beverages?
---
Brought to you by Shoes For Crews, the trusted leader in safety footwear to industrial employees for more than 30 years.
Share this article