SFC's Walk to Find Juvenile Diabetes Cure Grosses $245,000
For the fourth year in a row, Shoes For Crews demonstrated its commitment as a good corporate citizen by having Chief Executive Matthew K. Smith become the honorary chairman of the Juvenile Diabetes Research Fund's annual Walk to Cure Diabetes.
Under SFC's sponsorship, the March 5th walk raised $245,000 - more than $500,000 in just the past two years - a far cry from the $8,000 raised the first year of the company's involvement.
Anne Noble, special events coordinator of the JDRF Walk, said about 2,500 people participated in the event, walking about 2.5 miles between the Meyer Amphitheatre and Palm Beach Lakes.
Among the 2,500 participants were 40 individuals from SFC who contributed $9,000 to the total tally.
Noble said the Palm Beach walk is one of some 200 walks to raise funds to fight juvenile diabetes around the country.
Share this article

Facebook
Twitter
Also in this issue: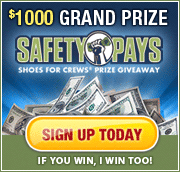 Snapshots
Photo highlights from recent trade shows and events with our clients. Is your photo here?
View photos »
Like Us on Facebook
Like us on facebook to receive special offers and promotions and get the latest news. "Like" us on facebook.
Forward to a friend
Know someone who might be interested in this newsletter? Why not forward this to a friend.
Sign up
If you would like to start receiving our newsletter, please sign up here.
Unsubscribe
If you no longer want to receive our e-newsletter, you can unsubscribe here.
To Unsubscribe:
If you no longer want to receive our Email Updates,
please click here to unsubscribe

Styles and prices shown are valid in the United States only. Prices subject to change. Not responsible for any typographical errors. Login at www.shoesforcrews.com for current information.
View Our Privacy Policy

©2011 Shoes For Crews, LLC. All rights reserved.