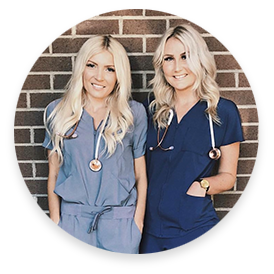 BSN BLONDIES
Industry: Nursing
Years in Industry: 7
IG Handle: @bsnblondies
MEET SYDNEY
I'm so excited to be a Shoes For Crews Ambassador! I was born and raised in the small town of Abbotsford, BC in Canada. I recently graduated with a Bachelor of Science in Nursing, which means I can now call myself a registered nurse after four long years of intense schooling!
I'm always trying to be the best version of myself--that's my personal philosophy and what I strive to live by. I am much more focused on how to make the future better rather than living in the past. As a new registered nurse, my advice to nursing students is to hang in there and not give up. School is tough, and you're going to get knocked down sometimes, but remember, that is just one moment in time. Keep your eye on your goal, and you'll achieve your dream.
The people who know me best would describe my style as comfy-casual-exactly why I LOVE Shoes For Crews so much!
MEET TARA
I'm originally from Langley, BC, Canada. I recently completed my Bachelor of Science in Nursing and am so excited to start my career as a registered nurse! It was a long and intense four years, but so worth it.
My nursing philosophy is to treat people how they want to be treated-though our patients are diverse, we are all in this together. At the end of the day, it always should come down to wanting to do the best for our patients. My advice to those who want to pursue a career in nursing? It is a long journey, but all that hard work will pay off!
The nursing profession fits in perfectly with my personal style because I love being cozy and comfortable, so what better way than in soft scrubs and my favorite Shoes For Crews!