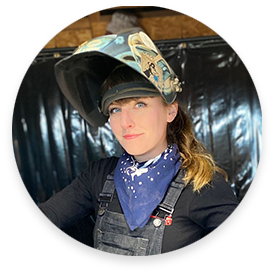 CYNTHIA
Industry: Welder\ set builder\ prop maker\ artist
Years in Industry: 15
IG Handle: @hotsteelwelding
MEET CYNTHIA
I started welding in 2006 while attending art school in upstate New York. Welding scared me a bit so I decided to step outside of my comfort zone and take a beginner class. After that first class I switched my major to metal fab. You could say it was love at first weld. After graduating I worked in a custom furniture shop for 3 years, learned how to TIG and blacksmithing basics. From there I got a job building sets for Broadway shows and news stations like the Colbert Report and Daily Show. I even went to Brazil to install the NBC news room for the 2016 Olympics. When I moved to California I worked in special effect shops fabricating props for Brittany Spears and Beyoncé to just name a few. Recently I have begun to focus on my home shop. I've started teaching workshops to others who are interested in welding. I love seeing the smiles after someone has created their first project.
PERSONAL PHILOSOPHY:
Never let anyone tell you a female isn't welcome in a shop. I can assure you, I'll out weld you
INDUSTRY TIPS/TRICKS:
Networking is key. I've worked on a lot of unique jobs because I knew the right people and worked in the right shops. It didn't happen overnight but the wait was worth it. Also always listen to the old guy welding next to you in the shop when he gives constructive advice. You'll never stop learning.
FAVORITE SFC STYLE:
So far, the DeWalt Plasma steel toe boots are my favorite. They are the most comfortable work boot I've worn. I feel like I'm floating. Plus the blue color accents really give it style.
HOMETOWN:
I grew up just outside of New York City in a small town along the Hudson River.
HOBBIES:
In my free time I love to fool around with Adobe Illustrator. I started an Etsy shop for all my sticker, T-shirt, and bandana designs. In my other free time I love to skateboard, hike, and go on road trips to more obscure places. Oh and collect vintage clothing and housewares!