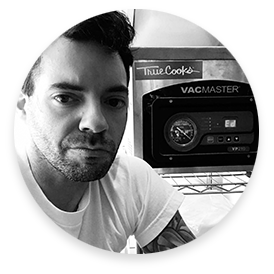 CHEF PAULIE COOK
Industry: Culinary
Years in Industry: 19
IG Handle: @pauliecooks
HOBBIES
Chess, pastry, reading, baking, gardening, gastronomy, billiards
PERSONAL PHILOSOPHY
I spend a lot of time in and out of work with food, which leaves me feeling like Dr. Jekyll and Mr. Hyde. There's a lot of questions and answers that flow in and out of my life on IG. But there's one that no ones ever asked me and it's probably one of the most important you could ask yourself - What's kept your interest in cooking? At the end of the day, I realized something from the movie we're pretty much all familiar with "You are not your job"- Chuck Palahniuk, Fight Club. That's something that has been ringing in my ears for a while now just like "you are not your IG page".
So to answer that, it's not making food for people that makes me happy or serving someone a special meal of some kind, that's called work. So I really broke it down why I do what I do and have figured out a lot. I look at this culinary world like a puzzle. Now I thrive on figuring out different pieces of it, not just for myself, but being able to share what I discover with others. I know exactly where I got that from.
I've grown up in a close-knit family with incredibly strong female educators. My two sisters and my mum have all worked in a field where their job is to ultimately recognize potential and accountability and cultivate it. That's what I hope to do with the people that I come in contact with at work and off work. I have never cared if my food was the best or most creative; I just like to have fun with it and try things I wouldn't have normally thought of and that's how I try to push myself to be creative. It's never been about shoving facts in your face, or telling you my way is the best way. I just share, and maybe one day someone will say "damn that kid taught me some shit". I go to work to break a sweat for others and to help guide young cooks towards more attainable goals and inspire a desire to learn.
INDUSTRY TIPS/TRICKS
Focus on you at home; focus on the restaurant business at work. Finesse and ethics aren't something you learn but they derive from knowledge, and you are in control of what you learn.
STYLE
T-shirt, jeans, Mozo Finns