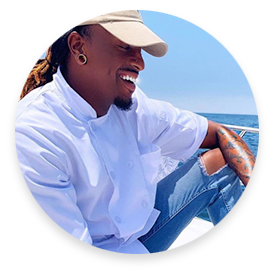 STEVEN MOORE
Industry: Culinary
Years in Industry: 8
IG Handle: @trendy_chef
ABOUT STEVEN
The Trendy Chefs career began after graduating from the Riverside Culinary Academy at the age of 21. Shortly after graduating he proceeded to Florence Italy for three months to cook with Executive Chefs from different restaurants in the area to enhance his own creative techniques and skills. After returning back home to California he was hired to cook at the Coachella Music Festival, which is one of the biggest music festivals held in California. During the festival, he landed the opportunity to cook for different celebrities which many of you may know, such as Pop Star Becky G, Rap Star Kid Ink, Actor Tahj Mowry and Comedian, Actor and Television Host Jay Leno.
During the next 4 years, he went on and took the role of a Sous Chef, which he gained the opportunity to work in many different restaurants across Southern California. His name quickly spread around as "The Trendy Chef" the chef with fashion, which led to the name "Trendy Chef".
In 2015, he opened his own Catering Business known as "(Trendy & Affordable Catering)" which he was able to show off many of his culinary techniques that lead to the recent opening of his second business, which is a food concession stand called "The Trendy Chef" where he specializes in the latest trendy food. He then had the opportunity to be featured in his first online magazine called "Unheard Voices". Speaking about his life, growing up and the many challenges that he encountered that shaped him to become the person/chef that he is today. His most recent accomplishment was getting the chance to attend the Steve Harvey Show as a guest audience speaker to talk about some of his crazy food ideas in front of a live audience.