Bullfrog Elite - Soft Toe
Black, Style# 62551

Bullfrog Elite - Soft Toe

Black, Style# 62551
Designed to help keep you safe and dry despite those messy jobs, the water-resistant upper of the ACE Bullfrog Elite work boot has an adjustable cinch top to help prevent liquid from seeping inside. This pull-on boot is electrical hazard (EH) rated and has a heel kick plate for easy removal.
Easy Clean: Superior SFC slip-resistant outsole with our patented clog resistance built in.
Electrical Hazard Protection (EH Rated): Equipped with electric shock resistant soles and heels, capable of withstanding 18,000 volts.
Ladder Grab: Notches added to the outsole engineered to catch ladder steps.
Soft Toe: Soft toe of protective, durable material
Water-Resistant: Treated to repel liquids from the surface.
Slip Resistant: Superior SFC slip-resistant outsole
EVA upper

Heel kicker so they pull off as easy as they pull on

ATTENTION: High temperatures can cause EVA material to contort, mar or warp. DO NOT leave near stoves, heaters or radiators. AVOID storing in unventilated parked vehicles or exposing to direct sunlight. Store in a cool, dry place.

Weight (per shoe): 25.57 oz.
Buy With Confidence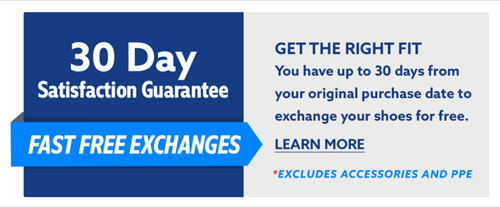 Get discounts, special offers, and new arrivals delivered to your email.