Thank You for Signing Up!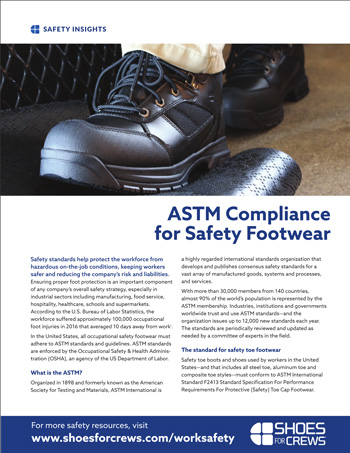 Your Download Includes:
n the United States, all occupational safety footwear must adhere to the ASTM standards and guidelines enforced by the Occupational Safety & Health Administration (OSHA). These safety standards help protect the workforce from hazards by ensuring proper foot protection. Often, companies are not aware of such standards, causing them to be non-compliant. When your company doesn't adhere to OSHA's guidelines, you risk an influx of workplace accidents and injuries – and incur significant fines too. Your organization must acquire knowledge of ASTM safety standards and other industry requirements to better protect employees and avoid financial penalties.
In the article you'll learn about:
How to eliminate slip and falls in your kitchen
The role you and your employees have in reducing accidents
How slip resistant mats and shoes can help prevent accidents