Heather
is rated out of
5
by
155
.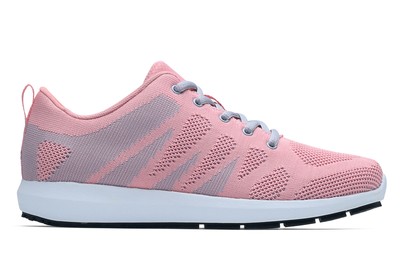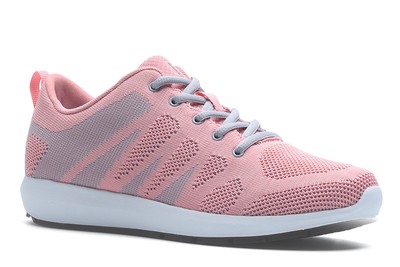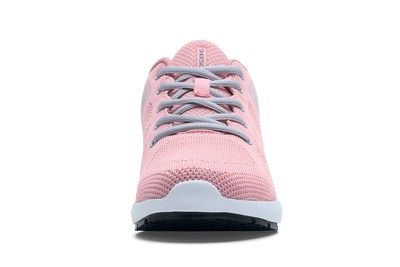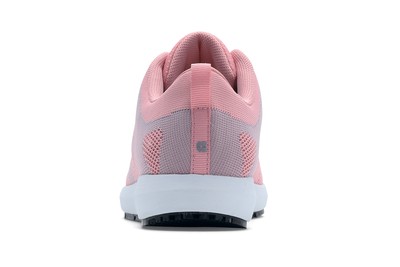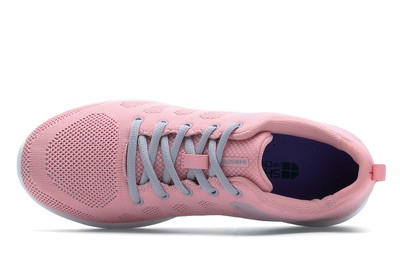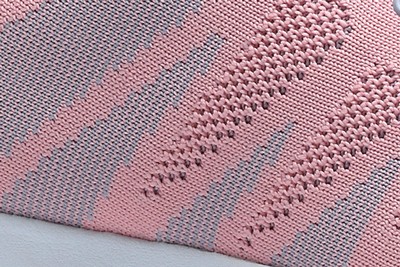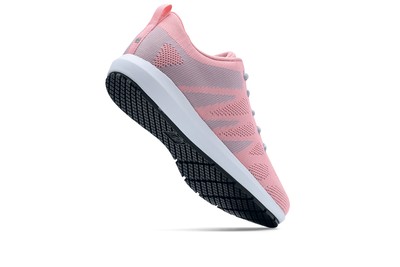 Heather
Women's Pink, Style# 22001
Description and features:
Lightweight, flexible and slip-resistant, the Heather women's athletic work shoe has plenty to offer. The breathable upper helps keeps your feet cooler, while the removable insole adds cushioning for comfort. If you need a basic athletic style with slip-resistant traction, Heather can help you make it through a hard day's work on your feet.
Slip Resistant: Superior SFC slip-resistant outsole.
Lightweight
Removable insole
Rated 3 out of 5
by
Ashley J.
from
I have to say that I actually really like these shoes. I gave them the rating I did mostly because of the fit. After ordering a different style & hating them (and they were too small), I exchanged them for these. I like these much better, however, they feel at least a half size to maybe a full size too big for me, especially width wise. Unfortunately because I hesitated to exchange them for a half size smaller a second time, I missed out on being able to exchange them at all by just a couple of days. Do yourself a favor and order a half size smaller than you think you need, or just remember to exchange them within the 60 day window!
Date published: 2016-08-24
Rated 5 out of 5
by
Kimber
from
The best shoe ever
I love this shoe. I have been in the restaurant and bar business for......omg 20 years I still love it. Never a boring day. I could not do it with this shoe. I have tried a lot of other brands. SFC has always been hands down the best non-slip shoe on the market. Yes if you step on a lemon or maybe a ice cube. You might die. You should always watch what your walking on. The comfort of this shoe is amazing. I am a firm believer, my feet almost never hurt with this shoe. I have bought at least four pairs. Only in the past 3-4 years. I am telling ya best woman's shoe out there. If your looking for comfort and Quality
Date published: 2019-09-14
Rated 5 out of 5
by
Rooskies
from
Favorite shoes
Ive worked in food for 4 years now. I have plantar fasciitis and need something with good inserts, sadly they do not have this, but buying inserts ($10 walmart) did wonders. They used to have these in wide but no longer carry it in wide so I had to switch to a different shoe. But I bought these shoes about 3 times, once a year. Because I work full time and on my feet 40hrs a week I put them to good use. The only reason for having to buy new shoes is where my feet rubbed, mainly my pinky toe, would cause a hole in the shoe and had to buy a new pair. These shoes are SO lightweight and cute I wish I could buy them again in a wide size. DEFINITELY RECOMMEND
Date published: 2019-10-04
Rated 1 out of 5
by
Ash M.
from
Ouch!
I love SFC so when I purchased the Heathers after reading good reviews, I thought I was set. I swear I only wore these for less than two weeks and the bottom of my heels are on fire. The insole feels cushioned but it is not comfortable. When the insole becomes broken-in, it seems like the shoe wants to shift when you walk. I have stepped on the side of the shoe rather than in the middle (where the insole lays) because of it shifting. I found myself contantly tapping the shoe to "readjust" it centered on my foot. Also, I noticed in the pictures the insole displays the SFC logo but mine are Ace Workboots?
Date published: 2019-07-19
Rated 5 out of 5
by
Fabiana S.
from
After trying so many shoes from shoe for crew I finally found the perfect ones . I have a broken bone in the bottom of my toe and no other shoe besides the Nike roshe I was able to wear . So I bought the non slip shoe covers, that helped for a little . When I called I asked them if they had any mesh shoes . They didn't at the time about a month later they had them and I bought them hopping they would be ok for my feet. Now I bought two pairs one for work and one to wear out . That are so comfortable. Thank you for making the mesh shoes they are the best from the mesh to the support.
Date published: 2017-09-14
Rated 5 out of 5
by
Jessica T.
from
Love love love this shoe. I waited 3 weeks to write a review to make sure they really work. Not only is it stylish, its SO comfortable. I work doubles quite often, which at a restaurant can mean not sitting down for 10 hours, and my feet don't hurt nearly as much as they used to. Sometimes they don't hurt at all. I have to tie them tighter than my normal tennis shoe because they feel a little wide otherwise. I normally wear an 11.5 and ordered an 11 and they are perfect. I can also walk through the dish pit without slipping even a little. Very good shoe. Highly recommend.
Date published: 2018-04-24
Rated 5 out of 5
by
Donna S.
from
I wanted to try the new "Heather" shoe as it looked good and functional at the same time. I have a very high arch and heel spurs so I have to be careful to get a shoe with the correct support. This shoe is awesome! Looks nice, fit comfortably from the very first day. There's plenty of arch support and as with all of your shoes, absolutely no slipping, even in the worst of conditions. I wish I had known about these when I was younger. It would have saved my feet a lot of pain!
Date published: 2016-11-24
Rated 1 out of 5
by
Patricia
from
3 months in use.
I'm on my 2nd pair. I really like the look, style and feel of this shoe. The 1st pair after wearing for about 3 months I noticed the heel support on the inner edges of the heels were collapsing and no longer supporting my heels anymore. It's like my shoes were caving inward at the heels near the arch. Maybe better arch support is needed. I sent the 1st pair back thinking they were defective. I got a replacement pair. Same shoe. Same thing happened around ghe 3 month mark. If you dont mind replacing your shoes every 3 months its great. Otherwise, keep looking.
Date published: 2019-03-16