Super Socks - Midcalf (3 pairs)
is rated out of
5
by
134
.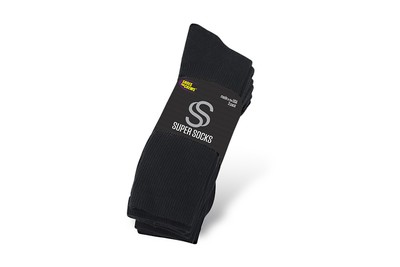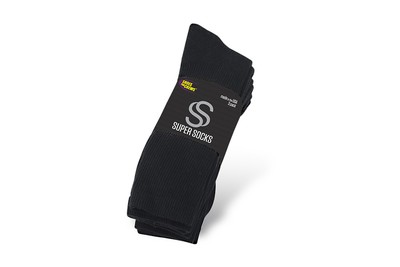 Super Socks - Midcalf (3 pairs)
Men's Black, Style# 1141
Description and features:
Includes 3 pairs of socks
Fits men's 9-12
Rated 5 out of 5
by
angie m.
from
wasn't too sure when we got these how these would work for him, he usually wears regular white tube socks that usually come in a huge pack from our local stores, but he really likes these more. they held on his foot so much better and he said it left his foot breathe. we will definitely be stocking up these instead of store brand economy socks.
Date published: 2013-02-01
Rated 5 out of 5
by
David C.
from
Been wearing these socks for years. Only socks I will buy for working in commercial kitchens. Keeps feet warm and dry in winter and cool and dry in summer thanks to quality material that wicks away moisture. 12 pairs usually last over a year and I work almost everyday. I highly recommend this made in the USA product.
Date published: 2013-06-27
Rated 5 out of 5
by
Susan M.
from
We are very pleased with the quality and the overall comfort feeling whereing these socks. They were a free bonus in our March purchase. The person that they were given to really likes these socks. We will be purchasing these socks in the near future and highly recommend them.
Date published: 2012-04-04
Rated 4 out of 5
by
Ira S.
from
Although the ad said fits up to size 12, they are very tight and uncomfortable. Otherwise, good heavy socks which will probably last a long time and wear well (as long as the toenails are kept trimmed).
Date published: 2015-12-04
Rated 5 out of 5
by
Scott W.
from
These have to be the most comfortable sock's that I have owned. Got one pair free with my order and thought what the heck, and ordered a second set. So very happy that I did, and these hold up very well also. Oh, they are thick too, not cheaply made.
Date published: 2013-02-17
Rated 5 out of 5
by
Tom M.
from
I received a 3-pack of these socks in 2014 when I ordered my first pair of SFC shoes. They have held up very well and are still in use today! they are comfortable and they stay pulled up! Love them! Glad to have the new 3-pack!
Date published: 2016-04-07
Rated 5 out of 5
by
Caleb A.
from
These socks don't itch. They don't make me too hot on warm days. They keep me warm on cold days. Comfortable and have no signs of wear yet. What more can you ask for in a sock? Nothing I think. Great sock, I only wear these for work now instead of my other socks. That's simply put, I like them.
Date published: 2014-05-23
Rated 5 out of 5
by
Anonymous
from
These socks...maybe it is common to have dry feet at the end of a shift working in a kitchen, i wouldn't have known it was possible. Now, i have the best work socks i have ever had the pleasure of sticking my feet into. Had to rate it low on the slip resistance though.
Date published: 2012-03-28