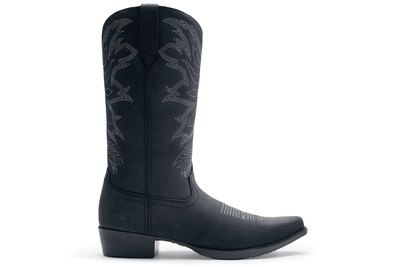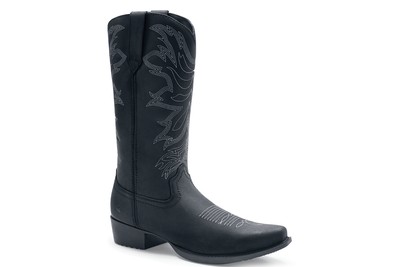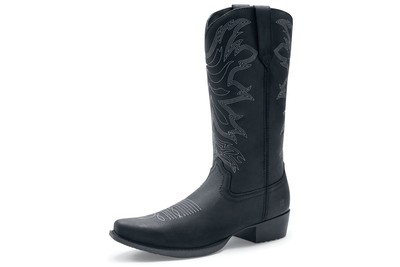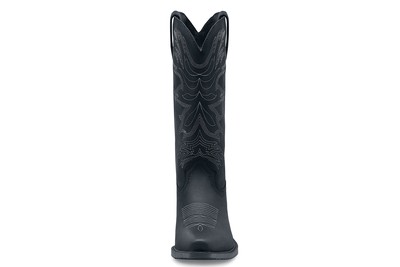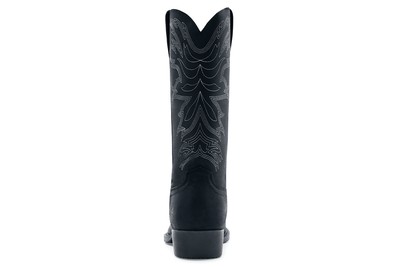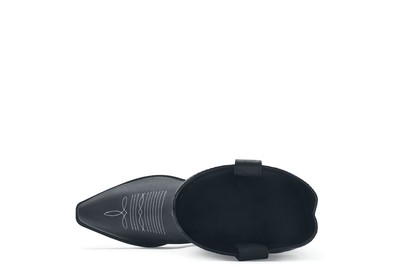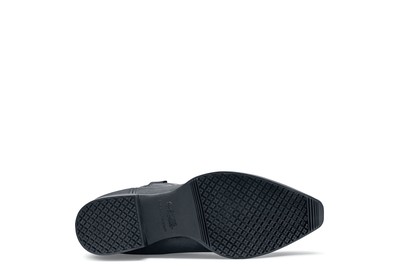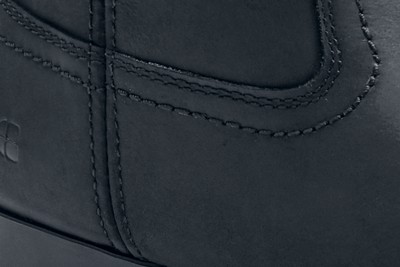 Billy II
Hombres Negro, Estilo #45312
Una resistente bota vaquera antideslizante con protección contra tropiezos que lo mantiene seguro cuando pasa de las superficies resbaladizas a la alfombra.
Resistente al agua
Treated to repel liquids from the surface.
Ajuste a la medida
Slim-fitting design ideal for narrow feet.
TripGuard (Protección contra tropiezos)
Decreased trip hazard zone to allow fluid movement between slippery environments.
Other Features
Cambrillón de acero
Plantillas acolchonadas removibles
Peso (por zapato): 18.2 oz.
Parte superior de cuero
Antideslizante
Caña flexible
Con la forma de una verdadera bota vaquera
Altura del tacón: 1-5/8 pulgada
I purchased these "Cowboy" boots because I wanted to add a little style to my life. I am a Chef/Caterer and also a Food Broker. As a Food Broker I am in and out of a variety of kitchens all over a couple states. Some kitchens are nice, many are not. Many have greasy floors. Many times I never know what I am going to get. I haven't slipped yet. I ordered these because I am catering a wedding for 400 this summer that is going to be hosted in a riding stable. So I wanted some real style. These boots give me the perfect style that is not too in your face! Believe it or not the never once hurt my feet. I slipped them on and off I went. I also get lots of comments on how good they look. I would highly recommend them. I came back 6 months after I bought them and have worn them many many times and still very happy!
Cyril M Chef/Owner June 14, 2018
I was a bit apprehensious making this purchase. These boots look narrow and I was worried about comfort during extended periods on my feet. I was pleasantly surprised when I got them on and found them plenty roomy(even the toes). I have been wearing them daily at work since. No issues with fit. The one comment I will make is there is virtually no insulation on the soles. This is no big deal in the warmer months, but in January the ground gets VERY cold as does the walk in freezer. That cold goes right through these boots. An insole might take care of that for me, but they are just snug enough that I don't think I could fit a pair of insoles in these without losing the good fit.
Robert F Kitchen Manager January 19, 2018
I'm thinking about getting another pair
Scott G December 22, 2017
I ordered a size larger as the reviews suggested and they fit perfect. Great pair of boots not normally a fan of the narrow toe but need a pair of black boots for a wedding and needed new work shoes (normally i just buy the slip ons) but I figured I'd give them a shot. I wore them 5 to 6 days a week in high heat environment for little less than 6 months and 1 of the boots came apart all together. Only 100$ pair of boots so you get what you pay for.
Timothy C September 17, 2017
These boots need to be a little wider. My foot feels crammed in these boots. I love tje style and look of them but i dont like how slim the are. Shoes for crews should make a different type of boot like square toed boots that are wider.
Steven J Server/Bartender July 6, 2017