Cole Haan Miles Wingtip Oxford
is rated out of
5
by
15
.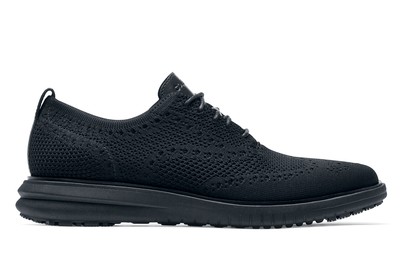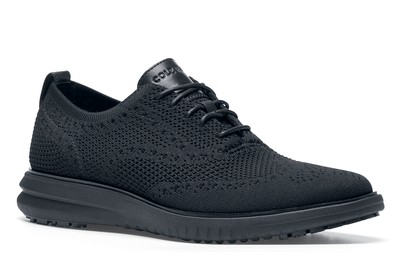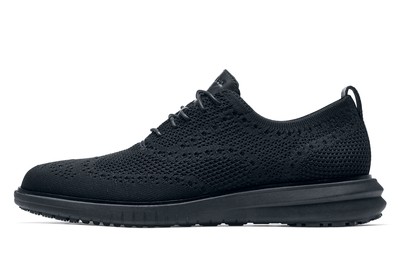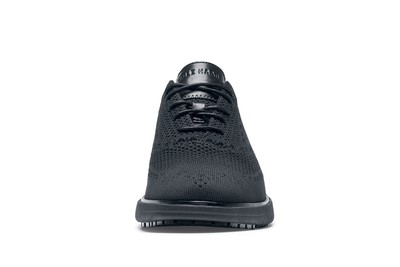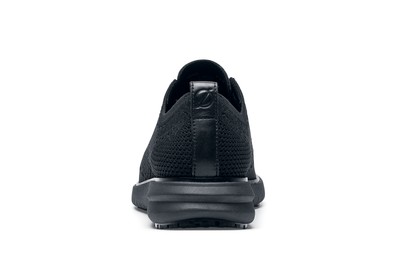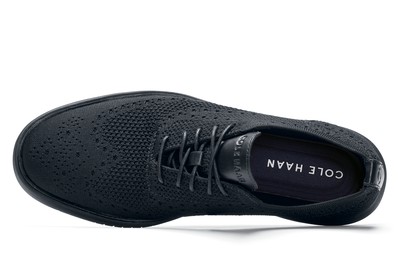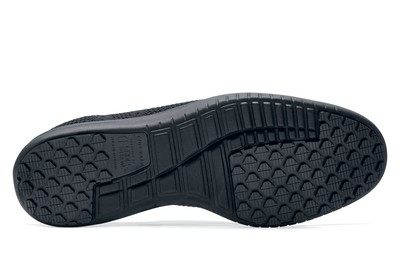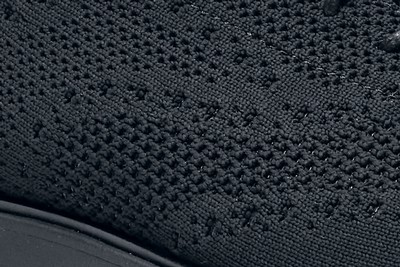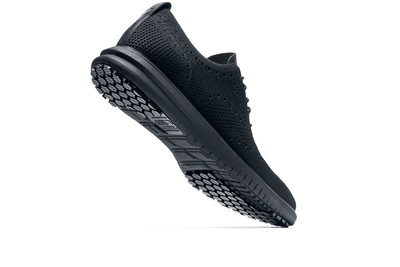 Cole Haan Miles Wingtip Oxford
Hombres Negro, Estilo# 42103
Descripción y características:
Tome el control del día y manténgase seguro, elegante y cómodo con el calzado Miles Wingtip Oxford. La extraordinaria calidad de Cole Haan se combina con la excepcional seguridad de Shoes For Crews en este calzado Oxford para hombres resistente a resbalones equipado con nuestra tecnología de suela líder en la industria. Estos zapatos de trabajo para hombres extremadamente ligeros y transpirables de Cole Haan también ofrecen amortiguamiento sensible, una plantilla cómoda y extraíble y protección TripGuard. En negro.
Antideslizante: Suela resistente a resbalones SFC superior.
TripGuard: Decreased trip hazard zone to allow fluid movement between slippery environments.
Peso (por zapato): 9.4 oz.
Also Available
Rated 5 out of 5
by
StavrosRPT
from
The Super Trifecta For The Restaurant Industry!
Once I saw the new partnership with Cole Haan & Shoes for Crews, I was sold and now on June 25th, I am thrilled that I purchased this specific pair of shoes as they provided 1) A True Solution To Slip Resistance, 2) A Comfort Zone Winner and 3) A Trendy Stylish Construction of A Well Designed Shoe. My experience with these shoes was from a shift that lasted 7 hours and at the end I felt like walking on air coupled with the support of traction control from Shoes for Crews specific design. If you are looking for a shoe that sports style, slip-resistance and comfort look no further and select this pair of shoes that were well worth every penny.
Date published: 2020-06-26
Rated 5 out of 5
by
Dan in KC
from
Incredible quality!
When ordering non-slip shoes, I've never been able to find the intersection between safety, style, and comfort until this shoe. The design caught my eye immediately while scrolling through dress shoes, but I'm always skeptical when it comes to trying a new style. I thought, if they're uncomfortable or flimsy, I can always send them back. But when I tried them on, I fell in love. It's been a long week of 15,000+ step days and the love is still there. Please keep this shoe available as long as possible! I'm going to be very disappointed if this style ever goes away. Also, I'd love to see more colors.
Date published: 2020-08-07
Rated 5 out of 5
by
Hermo9er
from
I love Cole Haan
Please make more colors! I have both black and blue, and need a brown or tan pair. I truly love these! Comfortable, completely non-slip, and very tough. All around 10/10.
Date published: 2020-09-23
Rated 5 out of 5
by
Smitty
from
Love the shoes
Great shoe for work and working in the restaurant sector.
Date published: 2020-08-28
Rated 3 out of 5
by
Carole47
from
Not for a wide foot :(
I have a wide foot, and since wide is not offered (why is that?) I ordered a mens shoe hoping it would be wider. They are a gorgeous (obvi because Cole Hahn is amazing) blue, very stylish shoe BUT i do not wear them because they hurt my feet. Had i known about the 30 day guarantee i would have returned them BUT these where ordered from work and i had no idea. I even had to pay extra out of pocket over what the company allowed AND if they would not hurt they would have been worth it. I do wish the black upper on black sole would have been an option at that time as i would have ordered them and at least my kiddo could have worn them even thou they hurt my feet and i couldnt so i could have gotten a little bang for my $$. Anyway, if you dont have wide feet you will love these.
Date published: 2021-03-05
Rated 5 out of 5
by
Romie
from
Fashion shoes
The most expensive shoes I've ever purchased for work. I felt like getting a pair of cole haans for a while now (not thinking for work). Lightweight and pretty easy to clean. They spilled raspberry syrup on em last week but I wiped em clean no prob.
Date published: 2020-07-11
Rated 5 out of 5
by
Matt W
from
Extremely Comfortable
Best non-slip shoe I've owned yet. Extremely comfortable and great cushioning to be on your feet all day. Feels like wearing a pair of sneakers.
Date published: 2020-07-23
Rated 2 out of 5
by
CMJ1
from
Beware: Way too long
I ordered these in my normal size - size 8.. They were way too big. I exchanged for a 7 due to how large the 8's were.. still too long. I would size down a considerable amount before buying. Also, they aren't the most comfortable soles. I decided to return and order a different pair of nonslip shoes.
Date published: 2021-03-28