August - Soft Toe
is rated out of
5
by
22
.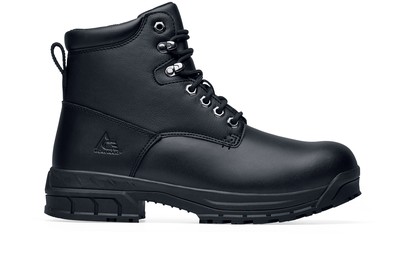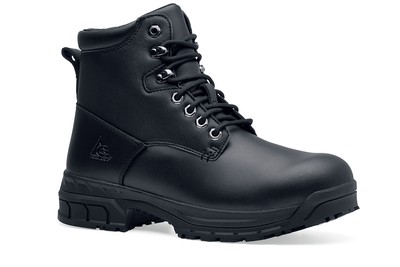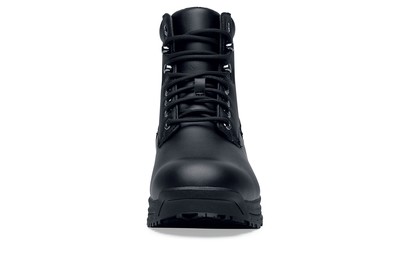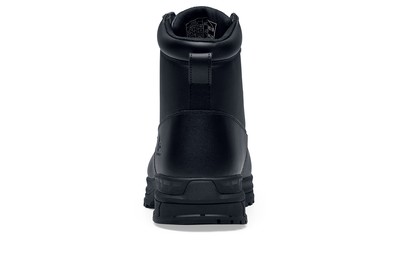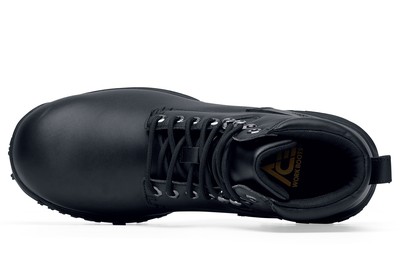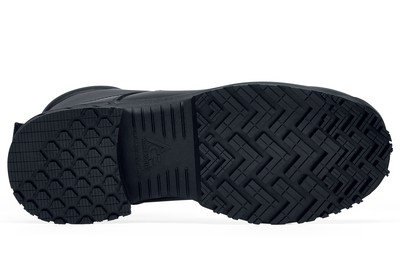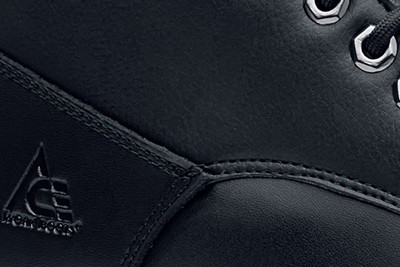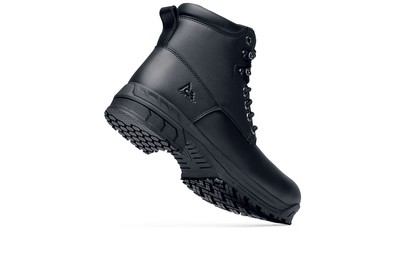 August - Soft Toe
Mujeres Negro, Estilo# 60654
Descripción y características:
La bota de trabajo August para mujer ofrece un ajuste natural con cuello y lengua acolchados y plantilla prémium, que ofrecen comodidad y apoyo duraderos. Esta bota para mujer utiliza la tecnología superior de SFC resistente a resbalones, con TripGuard que permite el movimiento fluido entre entornos resbalosos.
Antideslizante:
Resistente al agua: Tratado para repeler líquidos de la superficie.
Semelle confortable:
Rated 4 out of 5
by
Sarah G.
from
I ordered these boots 10/23 before my shift at 2pm and paid for standard shipping which is 3-5 days. I received them 10/24 less than 24 hours later. I love these boots. They are super comfortable and they look fantastic. The slip resistance is great. I typically wear a size 7.5 so that's what i ordered but they feel like they are a size 8 or even 8.5. I may or may not exchange them we'll see. I am usually not the type of person to leave reviews but I honestly can't say enough good things about these boots. I will 100% buy again when looking for work boots.
Date published: 2017-10-24
Rated 5 out of 5
by
Olivia D.
from
Overall this is the best work boot I've ever purchased. They're very light weight for a boot, there is plenty of room for thick socks or an orthotic insole, but not too much. I would say the only complaint would be that if you're going to stand around they do get sore to just stand there in, but if you're constantly walking around they are very comfortable. I work in a shipping warehouse with heavy packages that constantly fall off the belts on to my feet and this boot actually protects the toe without even being steel toe. I will definitely be getting another pair for when these ones are worn out! Great product.
Date published: 2018-04-11
Rated 5 out of 5
by
CakeGoddess
from
Comfortable and protect your feet!
Have purchased Dansko, Mozo, Timberline, & Fila work shoes. All were good, but I have had issues with all of them. Decided to get a boot instead of a clog or athletic type shoe for protection of my toes, and for the better traction. These boots did not disappoint. I work on concrete floors, and I would often have achy feet after work. Since wearing these, I don't have that problem, and I did not put any extra inserts in them. They are light for a boot, and easy to clean. I'm super satisfied with these, and would be hard pressed to go back to clogs. I would definitely purchase again.
Date published: 2019-11-04
Rated 5 out of 5
by
Cynthia L.
from
Love Shoes For Crews. After try and return, 4 time with 4 styles, I bought 2 of these boots in my actual size. I added arch insoles and they are the most comfortable work shoe I have had so far. I found a way to get a true measure...put soles of feet together, and measure feet at same time from toes to heel..if you have a high arch, you'll see it and can insole appropriately.
Date published: 2018-07-29
Rated 5 out of 5
by
the kk
from
great boot!!
i used to go home with wet feet and my shoes would not dry by my next shift.. with these boots my feet are always dry! they feel great and flex enough for running around! will buy again and again but they don't wear out very quickly so it'll be a while ;) 20 years in the industry and shoes for crews has never let me down.
Date published: 2019-07-15
Rated 4 out of 5
by
Heidi S.
from
I've only tried these boots briefly. I'm trying different insoles for My own comfort,the craftsmanship is excellent. They feel fairly true to size,if your feet are WIDE order wide.
Date published: 2018-04-14
Rated 2 out of 5
by
Lisa
from
absorbs water, uncomfortable
They do look nice, but they are uncomfortable, wear out extremely quickly and absorb water. Personally, I would never buy if not required by my employer (grocery store/retailer). Many other brands offer higher quality than shoes for crews.
Date published: 2018-09-27
Rated 1 out of 5
by
Karen
from
not a good replacement for 8084
I bought this shoe as the recommended replacement for the style 8084 that is being discontinued. I am very unhappy with the replacement options. Please consider bringing the 8084 back or something similar. The 8084 was more contoured and had a better fit in the toe area. The August is too open and does not hold my foot in place as well. I can't wear the boot. I had to return the boot twice due to sizing and when I did get the size closest to what I wear it was still so uncomfortable to wear. It was a waste of my money.
Date published: 2018-11-02