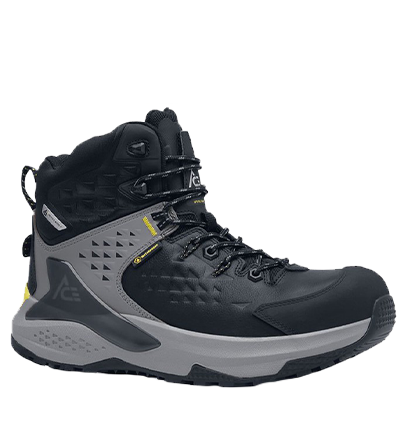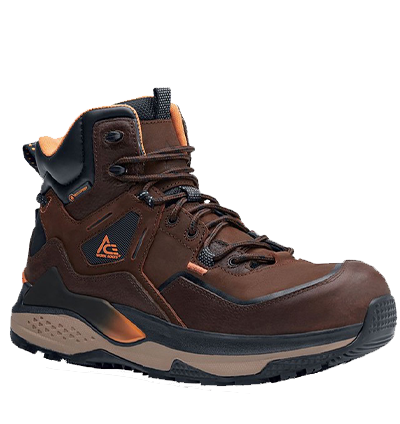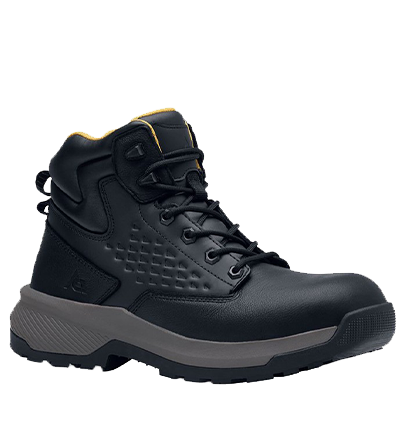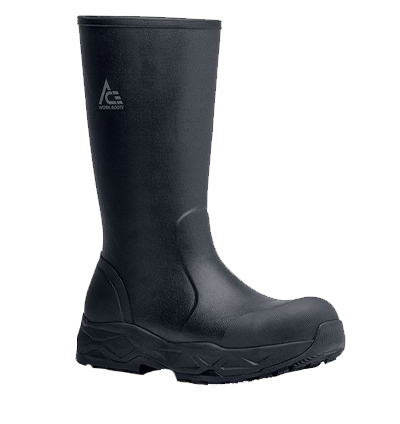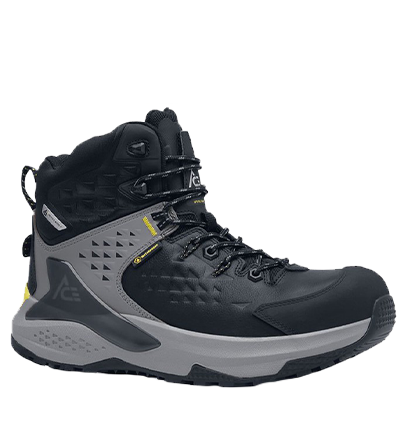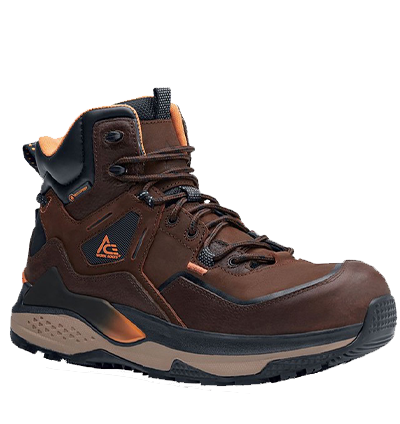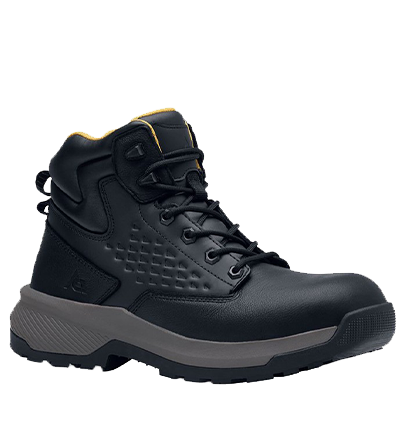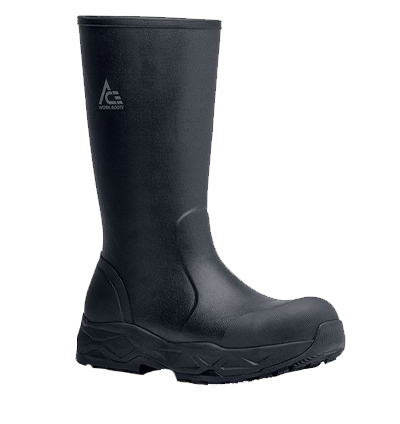 The Ideal Industrial Work Boots, Innovated by ACE®
Step into work with confidence. ACE® Work Boots add exceptional safety and comfort to your workday, no matter how challenging the job. The ACE ARROW™, Everglades and Badlands lines feature our ultra-comfortable, proprietary REVIVE™ midsole cushioning system, giving you athletic-inspired responsiveness. Durable and rugged, these boots have been rigorously designed, tested and manufactured to meet the unique needs of the industrial workforce.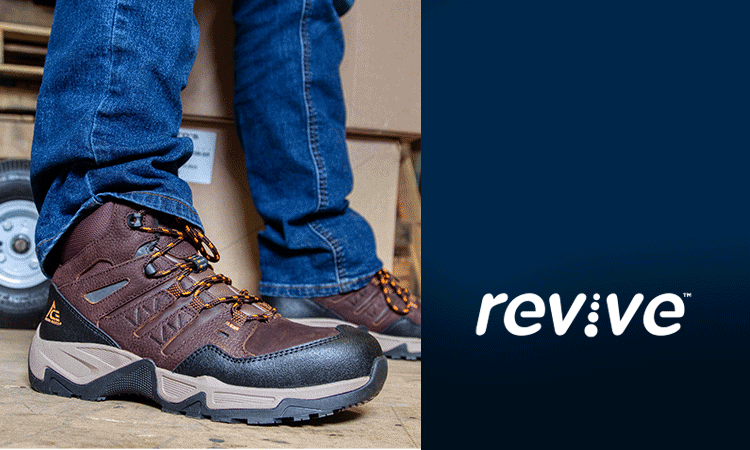 Everglades 6" NCT
Style # 72239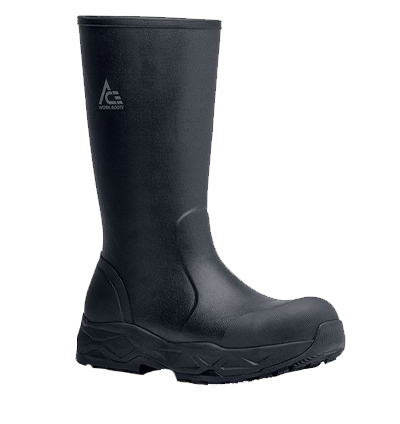 Raptor 15" NCT
Style # 72307
Flexible neoprene, fully vulcanized rubber upper with reinforced toe.
Features a premium polyurethane footbed and EVA midsole for comfort.
Versatile and slip-resistant GLADIATOR™ outsole features a defined heel and integral midfoot shank for torsional stiffness and support.
Lightweight and roomy nano composite Safety toe
ACE® Composite Safety Toe
Are you looking for work boots that meet the same safety standards as steel-toe boots but with a much lighter profile? Try on a pair of men's or women's composite safety toe boots from ACE®.
Crews love ACE® work boots because they're designed with the powerful slip-resistance you need to stay on your feet all day long. Our lightweight safety toe boots are available in slip-on and lace-up options, all with superior slip-resistant outsoles to reduce the risk of accidents in the workplace. And when you're on your feet all day, you can count on ACE® safety toe shoes to keep you comfortable, even in the most demanding jobs.
So, what is a composite safety toe? Many boots use fiberglass, Kevlar, carbon fiber, or plastic to protect the toes of one's foot. Since they're made from non-metallic materials, these composite toe safety boots are an excellent fit for crews working in airport terminals, courthouses, and other sites with metal detectors. Plus, they don't conduct cold, so your feet will feel comfortable even in the chilliest work environments.
Why crews love ACE® composite safety toe shoes:
A lightweight alternative to steel toe safety shoes
Exceptional foot and toe protection
Meet the same ASTM F2413-18 impact and compression safety standards as steel toe
Don't conduct heat, cold, or electricity
Experience Superior Safety with ACE® Composite Steel Toe Shoes
No matter your occupation, workplace safety is paramount. Machinists, offshore workers, electricians, welders, plumbers, or construction workers need EH-rated safety shoes. Shoes For Crews has you covered with ACE® Work Boots' composite steel toe footwear that carries the ASTM rating you're looking for. Our collection of composite safety toe shoes and boots stand up to the toughest workplace conditions so you can focus on getting the job done right. Plus, you'll find water-resistant slip-on styles that repel liquids, so your feet stay dry no matter how wet your work environment might get. And as with all our safety toe footwear, except those styles designed for Electrostatic Dissipative Protection (ESD), ACE® composite toe shoes provide Electrical Hazard Resistance (EHD).
Does your job require you to climb ladders? Working on ladders can be risky, but the proper safety shoe can reduce your risk of falling. Shoes For Crews' slip-resistant composite toe boots feature our versatile GLADIATOR™ outsole with the Ladder Grab feature, which uses raised ridges in the shank area to grab the ladder with every step, providing greater stability and grip while climbing.
Stay sure-footed and keep working like a champion in a pair of lightweight safety toe boots from ACE®. These lightweight safety toe shoes and boots provide exceptional protection while putting less pressure on your feet than steel toe safety boots. Whatever your job demands, we'll make sure you have the quality footwear to tackle it safely.
Stay Safe and Comfortable with Our Composite Steel Toe Shoes
You deserve high-quality safety footwear—and so does your crew. Shop our online catalog and discover the perfect fit. From water-resistant boots to industrial nano-composite toe shoes with extra cushion and support, Shoes For Crews is your source for slip-resistant ACE® composite safety toe shoes and boots.