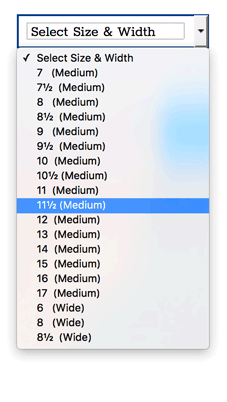 All sizes shown are U.S. sizes. Sizing standards vary among different manufacturers, so we recommend that you order the size that normally fits you best. Shoes For Crews footwear tries to maintain consistent sizing for all of our different styles, and our sizes generally run true to U.S. sizing standards. If your shoes do not fit, don't worry - you are covered by our Satisfaction Guarantee!
All available sizes will be displayed in the Select Size drop-down menu. If a size is not shown in the list for the style that you are viewing, then we do not make that size. If you are between sizes, we recommend that you order the 1/2 size larger. Sorry, we cannot special order unavailable sizes.
All styles are made with a standard medium width. Some styles are available in wide sizes, which is an EE width for men and a C width for women. If wide sizes are not listed when you select a size, then wide sizes are not available for the style you are viewing.
Size Conversion Chart
US
Male
US
Female
EURO SIZES
UK
2.5
4
33
1
3
4.5
34
2
3.5
5
35
2.5
4
5.5
36
3
4.5
6
36.5
3.5
5
6.5
37
4
5.5
7
37.5
4.5
6
7.5
38
5
6.5
8
38.5
5.5
7
8.5
39
6
7.5
9
40
6.5
8
9.5
41
7
8.5
10
41.5
7.5
9
10.5
42
8
9.5
11
42.5
8.5
10
11.5
43
9
10.5
12
44
9.5
11
45
10
11.5
45.5
10.5
12
46
11
12.5
46.5
11.5
13
47
12
13.5
47.5
12.5
14
48
13
14.5
49
13.5
15
49.5
14