Dansko Pro XP
Women's Black, Style# 49281
Description and features:
The comfort, support, fit and durability Dansko® is famous for, now with the exclusive Shoes For Crews® slip-resistant outsole!
Slip Resistant: Exclusive SFC slip-resistant outsole.
Padded collar
Leather upper
TRIPGUARD®: Decreased trip hazard zone facilitates fluid movement between slippery environments.
1½ inch heel
Anti-fatigue rocker bottom
Spacious toe box allows toes to move comfortably
Easy to clean by gently wiping surface with a clean damp cloth
Removable memory foam footbed provides optimal cushioning and support
Accommodates most standard and custom orthotics
Meets ASTM F2913-19 (slip-resistance)
Dansko Fit Guide
To confirm the correct size and proper fit, there should be about a pinky finger width between your heel and the back of the clog
Your heel should move up and down freely (like an open back clog) when walking. Relax your feet and resist the urge to curl your toes.
In both clogs, stand with equal weight on both feet. The clog's arch should be under your arch and you should not feel the back of the shoe on your heel or toes touching the front of the clog.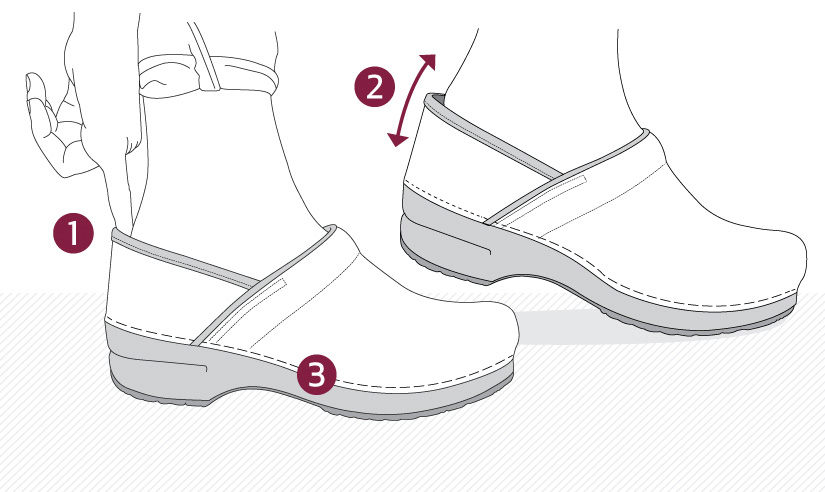 ---
Rated 2 out of 5
by
KitKat
from
I really wanted to love these
Since my employer gave me money toward shoes, I picked out the expensive pair that I always wanted. All of the nurses and veterinarians I know wear and love their Dansko, so I was really excited. Unfortunately, these have been terribly uncomfortable for me. From the moment I put them on to now, almost six months later, they've been difficult to get through an eight hour day with. There's been no rubbing or blisters, so it doesn't appear to be a sizing issue. It's just plain old sore feet after a long shift on a cement floor. On the plus, I've never rolled an ankle (thought I was about to a couple of times), they clean up well and they aren't showing a lot of wear and tear. So, if they are comfortable for you, they'll last you a good long time.
Date published: 2019-04-09
Rated 5 out of 5
by
Christy
from
Wonderful shoes !
I bought these for my daughter, who has flat feet, and works on her feet constantly in her job in the food industry. She had been complaining of sore feet and backache, and I remembered the wise words of my past surgeon who gave me the info on these shoes. He wears them constantly. He had said, "My back stopped hurting." GREAT advice. These shoes have been a great choice for her --- and she LOVES the cool design on them. They look good, and her feet and back FEEL good ! The slip-resistant quality makes me happy, too. I don't have to worry about her slipping at work. Love these !
Date published: 2019-11-23
Rated 5 out of 5
by
kksugar
from
Perfect for long days on your feet!
I have always liked danskos (working on my feet full time for over 15yr) they are not the cutest but who cares, and with pants no one really sees them. I'm back from retail to the restaurant world and my old danskos we're holding up. Looked into many other options, but trust the show from the past. Optd for this slip resistant/waterproof version. Saw all the mixed reviews, but again trusted the brand. Got my normal size in wide. They seem slightly more snug than usual, even though I optd for the wide version. Great matte black color. They are super comfortable and are doing the job perfectly this highly recommend.
Date published: 2022-07-07
Rated 1 out of 5
by
JuliBee
from
Really disappointed.
I've been a fan of Dansko clogs for over 20 years. This pair has been the MOST uncomfortable pair I've ever had. Had them less than a year, had the insoles replaced by Dansko and they are still painful to wear during an 8 hour shift. I am completely baffled as to why these particular clogs cause such pain to my feet? Sadly as pricey as they were- they're getting tossed in the trash.
Date published: 2019-01-30
Rated 5 out of 5
by
jossywossy
from
great shoe
Great, comfortable shoe. You must go a size up. I initially got a 7(my normal size) and boy were they uncomfortable!! I went into a store that sold them and the lady told me to get a size up with a little room in the back. Bingo! that worked!!
Date published: 2018-09-14
Rated 1 out of 5
by
crystal
from
disappointed
This shoe was a huge disappointment. Very uncomfortable!
Date published: 2018-12-02
Rated 3 out of 5
by
Patty
from
Great but not long lasting
Loved the shoes but can no longer wear them because the material on the top has cracked open.
Date published: 2019-01-04
Rated 5 out of 5
by
Sara S.
from
They look nice and are comfortable. I can tell the shoes will last a long time
Date published: 2018-02-28