Merlin - Canvas
is rated out of
5
by
57
.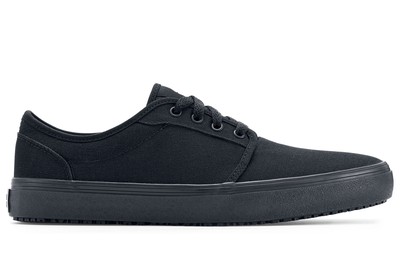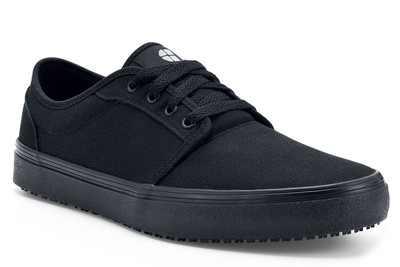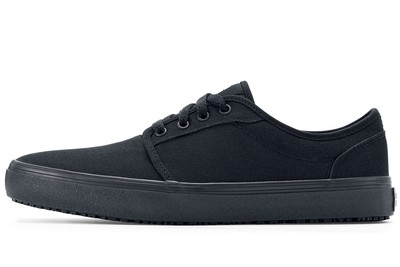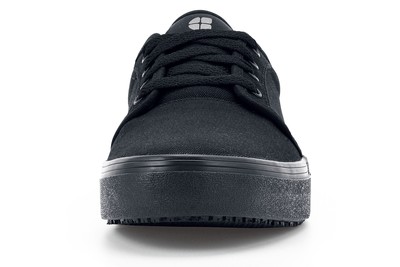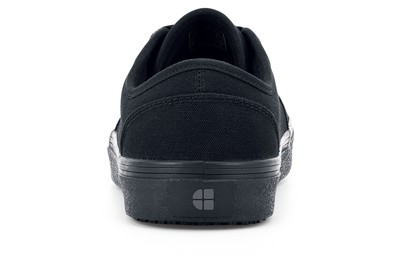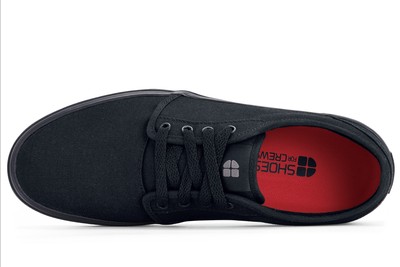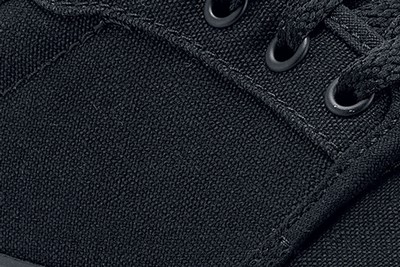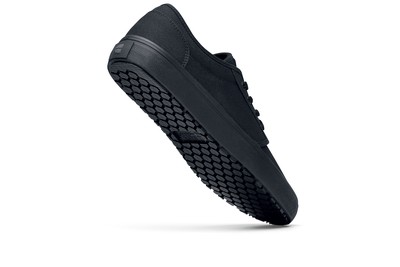 Merlin - Canvas
Black, Style# 79961
Description and features:
Helping you perform the practical magic of getting the job done day after day, this comfy and casual sneaker-style everyday work shoe features exclusive slip-resistant outsole technology available only from Shoes For Crews. In black.
Slip Resistant: Superior SFC slip-resistant outsole.
Water-resistant: Treated to repel liquids from the surface.
Natural Fit: A default fit for most sizes of feet.
Rated 5 out of 5
by
elizzyp
from
super comfy!
i was a bit scared buying these because they look so trendy and like normal shoes (i avoid the all black restaurant shoes at all costs because i just don't like the way they look) and i have not had a good experience with other work shoes like that, but these are great!! i love the fit, they are lightweight, and feel secure. i work in a coffee shop so there's constantly water, coffee, and milk being spilled on the floor, and i don't feel like i'm slipping around too much. i love them because they are comfy, have good slip resistance, and look like a regular sneaker!
Date published: 2020-06-21
Rated 2 out of 5
by
bmow
from
Be sure to get 1/2 to a size up for these.
Decided to get these shoes in the same size as the Vans I wear, since my Vans already spacious enough for me. Arrived and was way too small, compressing my toes completely. The soles on these are also not very good, and will definitely hurt after awhile. I have a coworker who owns these and says adding insoles is an absolute must for this. If you're going to order these, be sure to get 1/2 - 1 size up because these run a little small and will need the extra space for the added insoles.
Date published: 2020-05-18
Rated 3 out of 5
by
grover
from
Not bad
Not much support so I would definitely recommend buying some insoles for these shoes if using them in a Kitchen environment. They look good, are very breathable and lightweight.
Date published: 2019-06-04
Rated 2 out of 5
by
jamesy33
from
Not the best pair I've had...
Ordered these through work since the catalog they sent to my job didn't have Mozos listed. I figured that they would be pretty a decent sub- not quite! They are definitely on the tighter side of normal fit, and my feet are screaming after a hectic shift. Also, I got a splash of bleach spray on these and now they look like they have a serious case of mildew that won't wash out! Honestly, if you work front house in the food industry don't bother with these ESPECIALLY if you're in any management position. Only positive is that the traction is on point like any pair of SFC's...
Date published: 2020-05-03
Rated 5 out of 5
by
Brittani
from
Great Shoes!
I bought a pair in a size 4 women's 2 years ago and these shoes have lasted me a long time. They are the equivalent to Van's shoes, but are work appropriate. They stopped making these in my size though and hope they make more in my size. I work all over the place in a movie theater and they get the job done.
Date published: 2019-11-12
Rated 3 out of 5
by
Erikah
from
Looks just like vans
They are wayyyyyyy to tight around the toes and I don't have wide feet.
Date published: 2019-09-22
Rated 5 out of 5
by
Miliano
from
Good and durable.
I've literally had these for over a year now and they've lasted. Although, in my case I'd take them once my shift was over for the everyday ones. I remember when I first got these, I was so surprised by how good they looked that I forgot they were even shoes for crews...lol! Unfortunately, because they're cloth/linen based. It's not good for mopping or bleach splashes.
Date published: 2019-11-20
Rated 5 out of 5
by
teajay
from
Amazing Shoes
The shoes are all around awesome. No water leaks into them, I don't slide around, no pain while wearing them 8.5+ hours. I usually have issues since I had wider feet but these are perfect. Only reason I don't recommend is because it took almost 3 weeks to show up when I was told 3-5 business days. I'm in the bay area CA and the shoes left the state (started in Bloomington CA) and went all the way to FL and came back. I made 2 payments for a product I didn't even have in my possession and after the first week I no longer had an estimated delivery date.
Date published: 2021-08-15