Know Your Safety Score
---
We proudly publish our scores and invite you to see how our footwear stacks up against the competition.

Often copied but never surpassed, Shoes For Crews® literally invented the slip-resistant work shoe and established an industry.
HOW DO YOU MEASURE SAFETY?

The Coefficient of Friction
---
Not all slip-resistant shoes are created equal. Shoes For Crews® consistently achieves the highest Coefficient of Friction (COF) scores which measure outsole traction and slip resistance.


Search By Shoe Style to See Your COF Score!
Unlike Shoes For Crews®, many competitors still utilize outdated testing methods, yielding higher COF scores that do not accurately reflect the performance of the shoe in action.
Learn more about Shoes For Crews exclusive safety technologies here.
For more information on how you can start protecting your workforce with a slip-resistant shoe program, click here.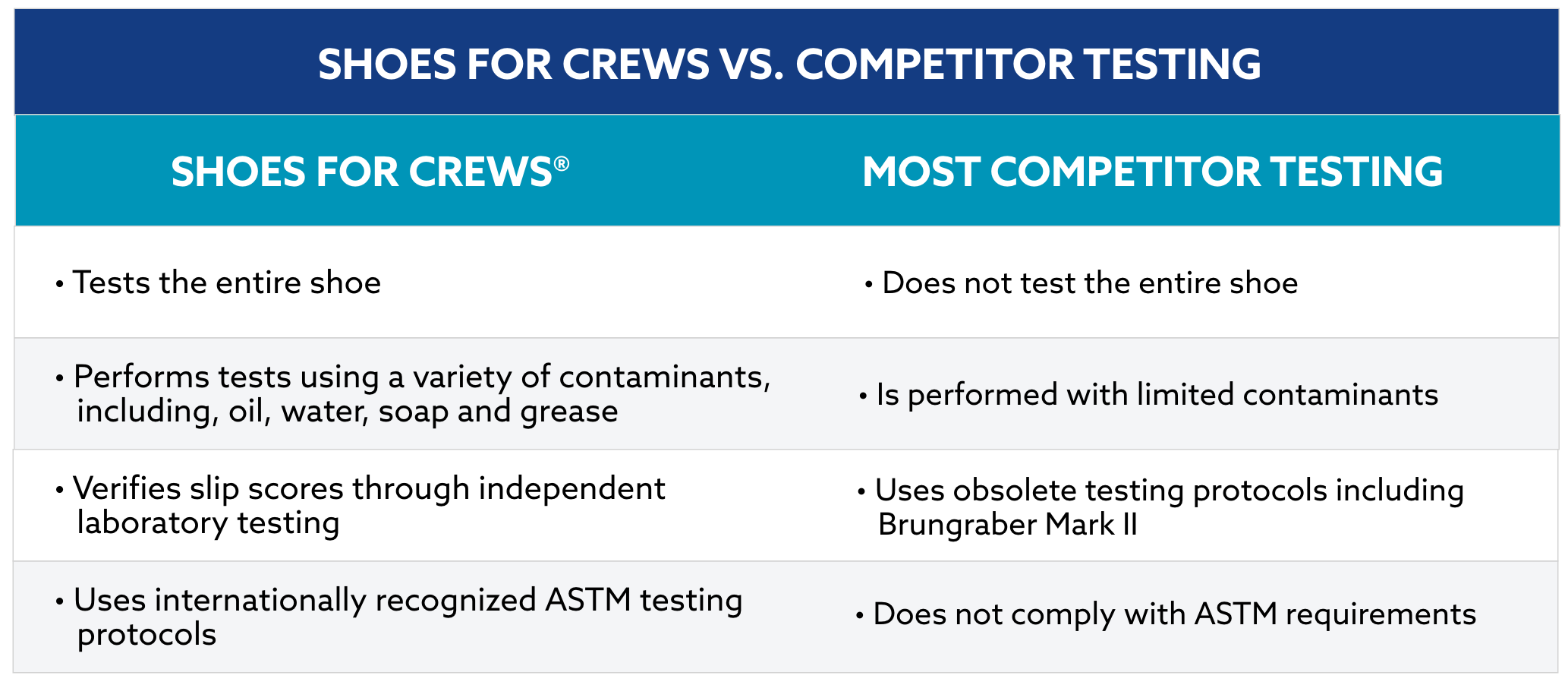 Our proprietary outsoles are manufactured through a demanding and exacting process that ensures that the last shoe from the mold is as effective as the first, resulting in consistently high COF scores.
We invest in state-of-the-art CnC mold-making technology
We employ a unique cleaning process that allows molds to stay in tiptop shape
We constantly check and replace our molds to maintain a high level of slip resistance
SHOES FOR CREWS®

ACES THE COMPETITION
---
Our proprietary outsole manufacturing process remains a trade secret, but the results are clear when you compare our COF scores with any of our competitors. This is why millions of workers worldwide, in more than 150,000 locations, depend on the slip-resistant safety of Shoes For Crews®.