CrewGuard® Stretch Storage Kit (with 8 pairs)
Black, Style# G7013

CrewGuard® Stretch Storage Kit (with 8 pairs)

Black, Style# G7013
| Size | Men's Equivalent U.S. Shoe Size | Women's Equivalent U.S. Shoe Size |
| --- | --- | --- |
| XXS | | 3 - 4.5 |
| XS | 3 - 5 | 5 - 7 |
| S | 5 - 6 | 7 - 8 |
| S+ | 6.5 - 8 | 8.5 - 10 |
| M | 8 - 9 | 10 - 11 |
| M+ | 9.5 - 10.5 | 11.5 - 12.5 |
| L | 10.5 - 12.5 | |
| XL | 13 - 15 | |
| XXL | 15.5 - 17 | |
| XXXL | 17.5 - 19 | |
Another Safety Solution Exclusively from SHOES FOR CREWS®. Now you have an easy and convenient way to store and manage your inventory of CrewGuard® safety overshoes! This kit comes stocked with 8 pairs of our innovative CrewGuard® Stretch, covering all shoe sizes from 3 to 13+. Every workplace should have this kit!
Slip Resistant: Superior SFC slip-resistant outsole.
Easy Clean: Superior SFC slip-resistant outsole with our patented clog resistance built in.
A Storage Kit for Your CrewGuards

Space-saving design - contains 8 pairs, 2 of each size S, M, L, XL

Keep track of your slip-resistant overshoes by storing them in this durable compartment

4 interior partitions, S, M, L, XL, covering all sizes from 3-13+

Velcro-fastened lid

Perforated on bottom and each interior section for ventilation and drainage

Easy access for visitors, inspections, temps and NEW HIRES

Strap allows you to carry and hang almost anywhere

Organize and keep track of your inventory
Buy With Confidence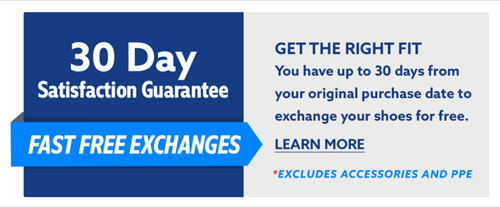 Get discounts, special offers, and new arrivals delivered to your email.