Payroll Deduction at No Cost to Your Company!
Shoes For Crews footwear programs are administered at no cost to your company! Your employees pay for their own footwear without having to pay cash, by using our easy voluntary Payroll Deduction Plan.
Buying Shoes For Crews is an easy choice for employees because our footwear is safe, stylish and affordable. Our shoes are conveniently shipped directly to your facility!
Not interested in our Payroll Deduction Plan? No problem - we offer simple Company Direct Billing accounts!
Customized Online Ordering
Orders can be placed quickly and securely on our website, which is automatically customized to the ordering rules you set up when you open an account. Register to order!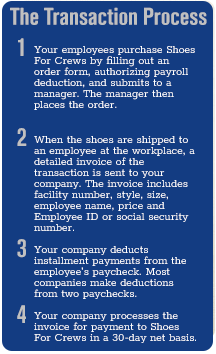 Join more than 15,000 companies in more than 100,000 locations worldwide that rely on Shoes For Crews as their solution for slip and fall accidents.