Piston Mid - Soft Toe - Waterproof
Black, Style# 63723

Piston Mid - Soft Toe - Waterproof

Black, Style# 63723
Need a sturdy and comfortable waterproof work boot? Check out the ruggedly durable Piston Mid WP which features a waterproof and corrosion resistant leather upper and exclusive slip, clog and oil-resistant Gladiator Outsole by Shoes For Crews. The ultra-comfortable padded collar and removable gel insole make this a waterproof boot you'll enjoy wearing all day.
Slip Resistant: Gladiator Outsole™: Wide chevron lug pattern with built-in clog resistance, exceptional durability and slip resistance by Shoes For Crews. Great for indoor/outdoor use.
Easy Clean: Superior SFC slip-resistant outsole with our patented clog resistance built in.
Zone Traction: Combination of environment-specific SFC lug patterns for all-new performance outsoles.
Waterproof: Designed with elements to keep your foot dry.
Ladder Grab: Notches in our Gladiator Outsole™ are engineered to catch ladder steps.
Electrical Hazard Protection (EH Rated): Equipped with electric shock resistant soles and heels, capable of withstanding 18,000 volts.
Soft Toe: Soft toe of protective, durable material
Leather upper

Removable insole

Padded collar and gusseted tongue

Weight (per shoe): 20.81 oz.
Buy With Confidence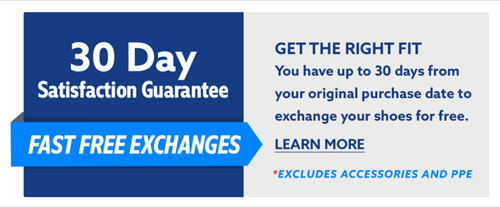 Get discounts, special offers, and new arrivals delivered to your email.