Statesman
is rated out of
5
by
99
.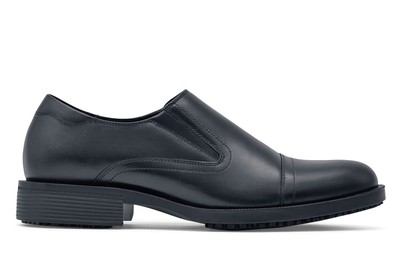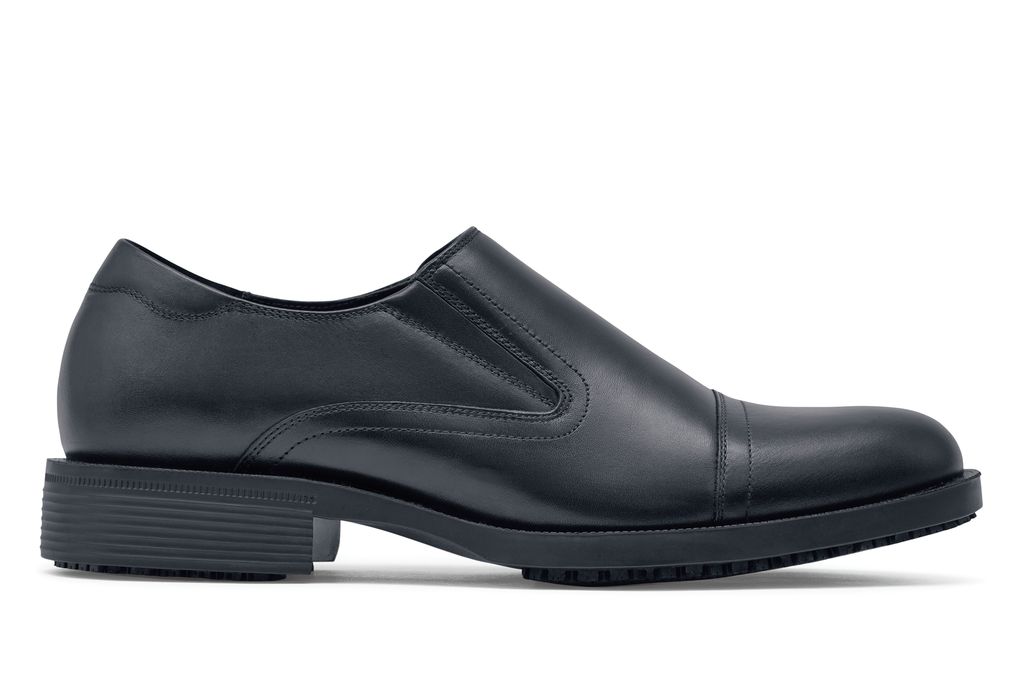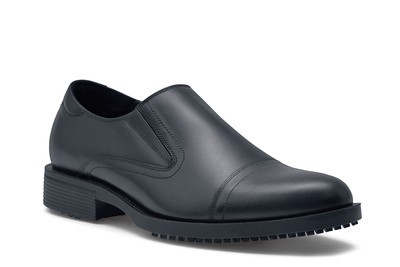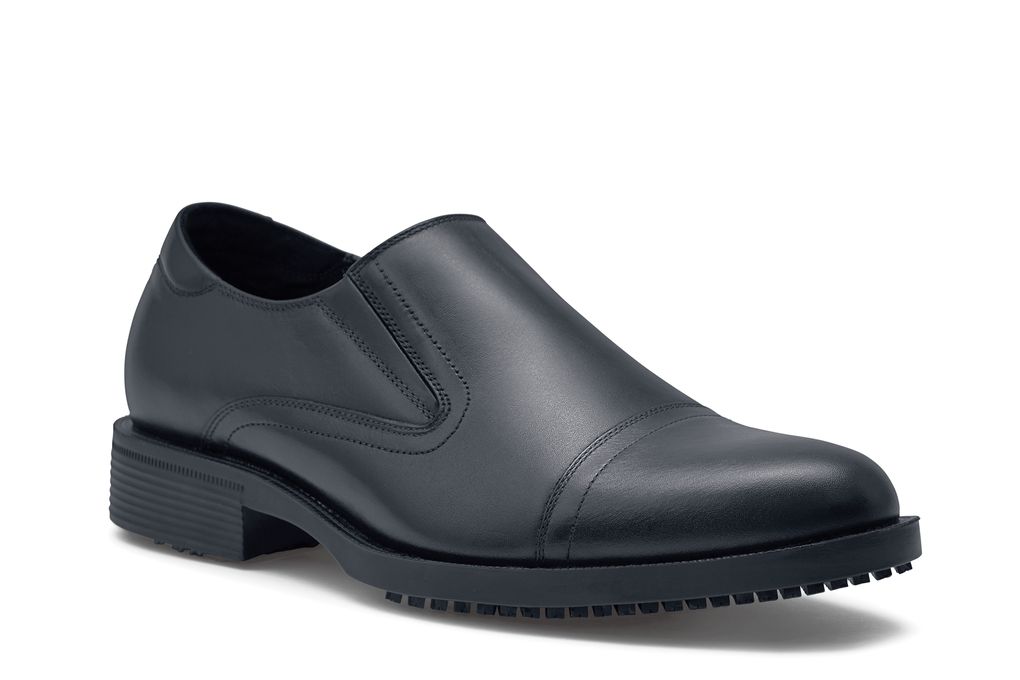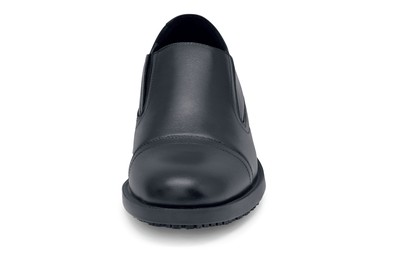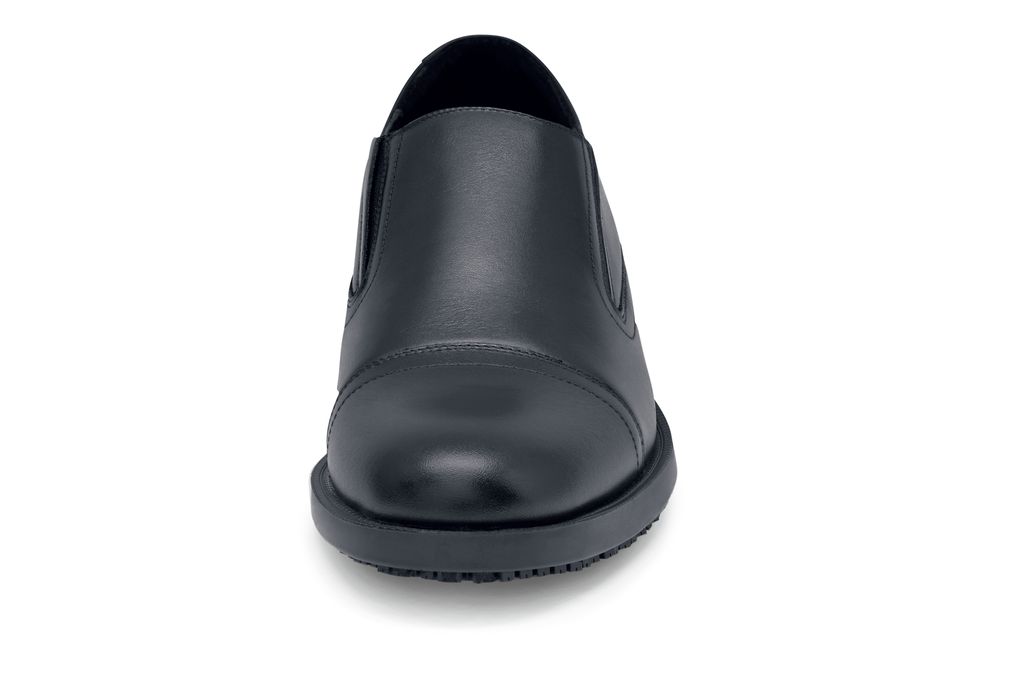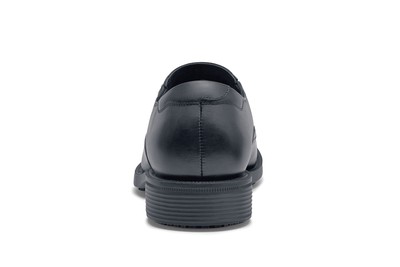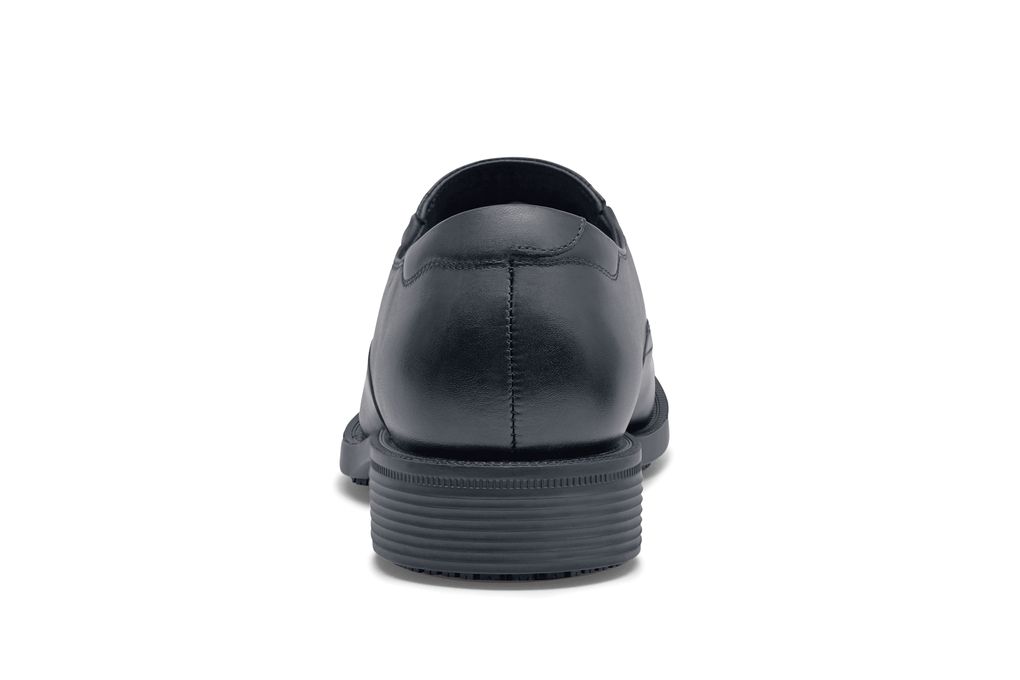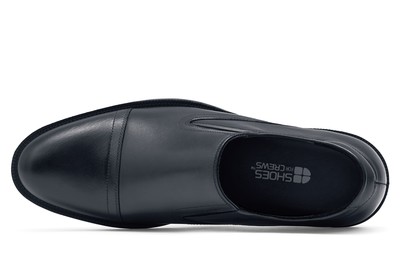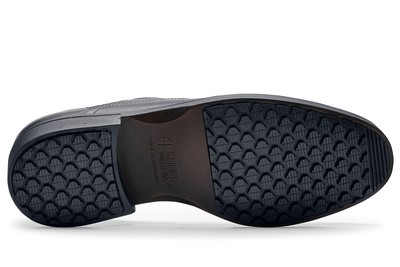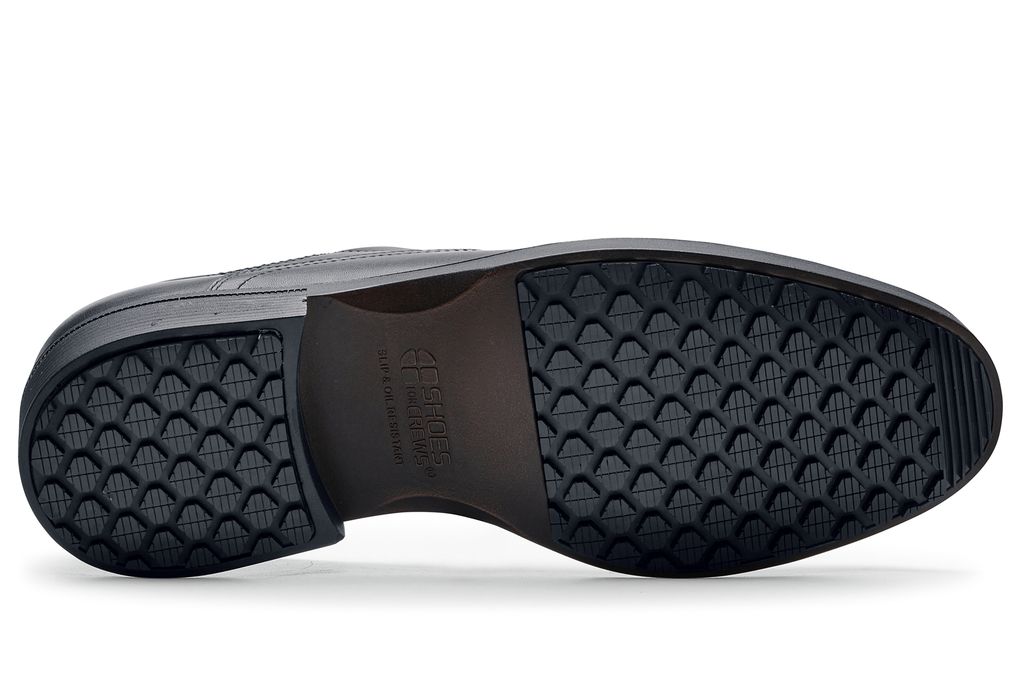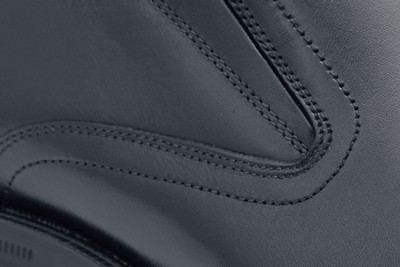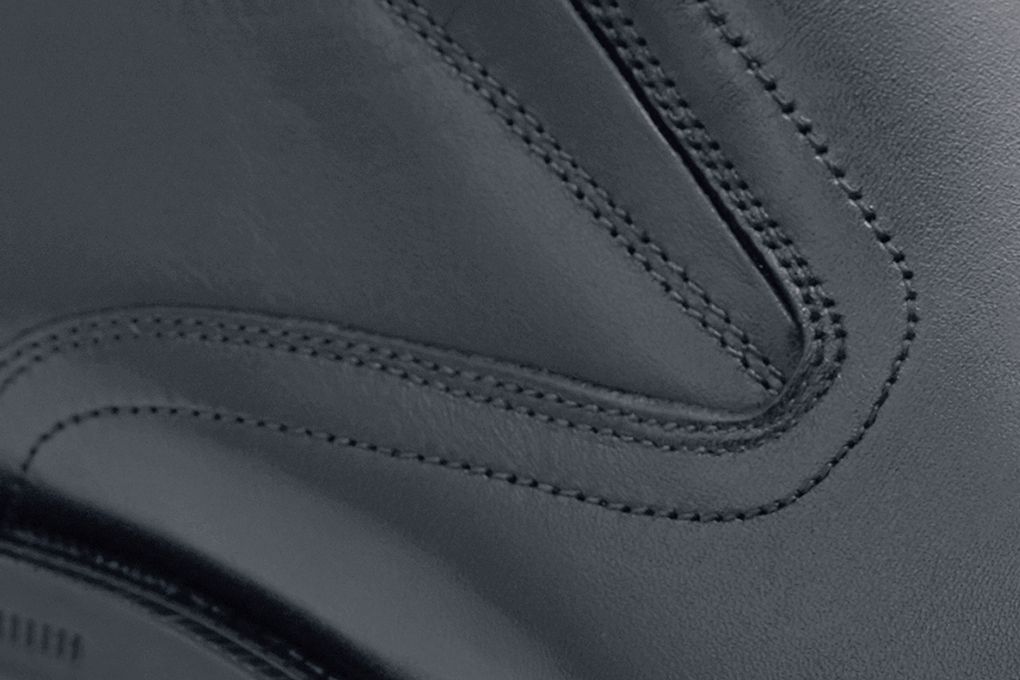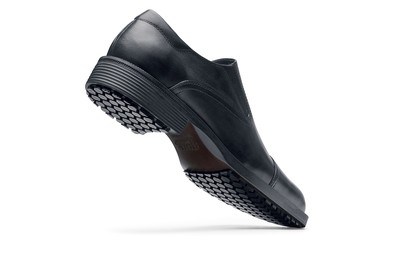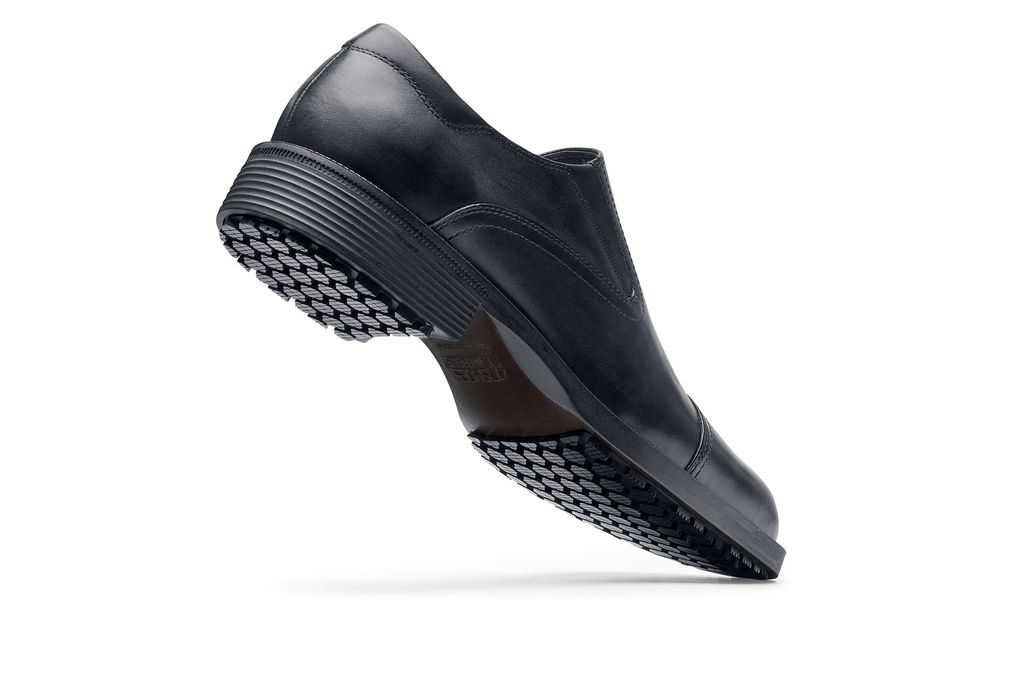 Statesman
Este elegante calzado de piel sin agujetas puede ir de la sala de juntas a la bodega, manteniéndolo seguro y cómodo independientemente de lo que tenga que hacer.
Men's Black, Style #1202
This elegant leather slip-on can go from boardroom to backroom, keeping you safe and comfortable no matter what's on the agenda.
Slip Resistant
Superior SFC slip-resistant outsole.
Water-resistant
Treated to repel liquids from the surface.
Tailored Fit
Slim-fitting design ideal for narrow feet.
Other Features
Padded collar
Steel shank
Slip resistant
Water-resistant leather upper
Cushioned footboard with leather-lined dual-density insole
Rated 5 out of 5
by
Keith K.
from
In March 2014 it was raining in San Antonio and I slipped and fell forward on the sidewalk, ruining a good $190 slacks by ripping a hole in the knee area. Most, if not all dress shoes are smooth and have little or no traction. Then I remembered my former employer encouraged us to get work shoes from Shoes for Crews. That pair was great but not dressy enough for a business suit so I bought the black Stateman's shoes for my $600 suit so now I can walk confident and don't have to fear of falling down again and ruining another pair of slacks. Best pair of shoes I bought so far. Highly recommended if you don't want to fall and hurt yourself and bruise your ego.
Date published: 2014-05-08
Rated 5 out of 5
by
Jason C.
from
I'm a big boy, so shoes generally don't last me very long. No joke, normally within three months it's time to order more shoes. I have had multiply pairs of these and the Senator (dependent if I wanted to tie my shoes that day,,,lol), and these are by far the best shoes I've ever worn in a restaurant/hospitality setting! Not only do they fit, feel great being on my feet for 10-14 hours a day, bit they look amazing for a FOH setting as well. I LOVE THESE SHOES!! I switched jobs a couple of years ago (to teach Culinary Arts and Hospitality at a college level) and took a big pay cut in doing so, which meant I needed to find an alternative to these shoes. HUGE MISTAKE, back to every three month purchases again. Won't make that mistake again.
Date published: 2017-05-21
Rated 5 out of 5
by
Tim V.
from
I am finally breaking down and buying another pair of shoes for work after wearing these 50+ hours a week since February 2011! These shoes have been the best money on shoes ever spent! I'm on my feet hours upon end every day and my feet have never hurt at the end of the day. They look good and polish very easily. To get a better shine, just hit them a little more with polish and water a few times. They won't be military shine, but they look great for what I need. I'd love to see a wing tip in this style in my size. Great job SFC!
Date published: 2014-03-12
Rated 5 out of 5
by
Anonymous
from
I have bought many pairs of shoes from Shoes For Crews. I have bought four pairs of the statesman in brown and black. the shoe looks better than many more expensive dress shoes. More comfortable than more expensive dress shoes. I have never slipped in the kitchen wearing these shoes.Your shoes even perform well on icy and snowy conditions. The shoes always have a good leather smell inside even after months of wear. The shoe polishes up real well also. My only complaint is that I always miss the deals for buying the shoes. I seem to always buy a week before special offers. This is probably because I buy the shoe when I need them, and don't wait on the offers. Maybe a buyers club points program would be good.
Date published: 2014-02-24
Rated 5 out of 5
by
Matt G.
from
I have ordered from Shoes for Crews for a long time now. And this without a doubt is my favorite pair. How much so? I purchased a second pair to wear in day to day life. The styling is wonderful with Chef Pants or Jeans. I get stopped almost everytime I wear them out in public and asked where I got them from. If you keep them polished they shine like gems. From the second you take the plastic shipping wrapper off of the box you can smell the leather. Great product. I highly recommend.
Date published: 2011-06-23
Rated 3 out of 5
by
Anonymous
from
I wear 11.5W. The EE wide was a bit too wide at rear of shoe; and much too narrow at the toes. Men with wide feet, also are wide thru the toe area too. I will say this, SFC is not kidding about the Mighty Grip. These shoes have the best grip on tile floor and carpeting. Best traction grip shoe I have ever worn! I did not test outside, as I knew I would return them due to size/fit issue. Return process was easy-peasy. SFC includes a prepaid return label. Just make sure to fill out the return form. I did get charged $6.95 for "processing" on the return, but that's reasonable. I may order another pair, just not EE or narrow toe design. I wish there was a local SFC store, where I could try on different shoes. I'd buy 2-3 pairs! Mighty Grip is awesome.
Date published: 2016-02-11
Rated 1 out of 5
by
Jesse F.
from
In the four years i have been wearing dress shoes this was the worst shoe i have ever purchased.Outside of shoe not as shiny as shown in photo first of all its more of a matte finish. The inside of the shoe where the toe piece is attached to the rest of the shoe scrapes against your toes and has been causing blisters. Also the back where your heel rests is very rough and scrapes the skin off your heel as you walk. Was hoping that they would break in but that is not the case. Extremely disappointing will never purchase again.
Date published: 2014-02-11
Rated 5 out of 5
by
Chris M.
from
Purchased 10 1/2 wide, fits well, really a great looking shoe, but a couple things to mention. The seam across the top/front of the shoe between the end of the toe and ankle will take some breaking in time if you stand and walk a lot on the job. It did have my feet hurt a little first couple of times wearing it. Eventually I also swapped out the insert for one with better arch support, the one in it was ok, but again, I stand and walk a lot on my job. Still this is my favorite of the four styles I purchased here.
Date published: 2016-05-03