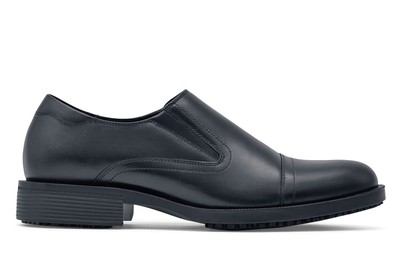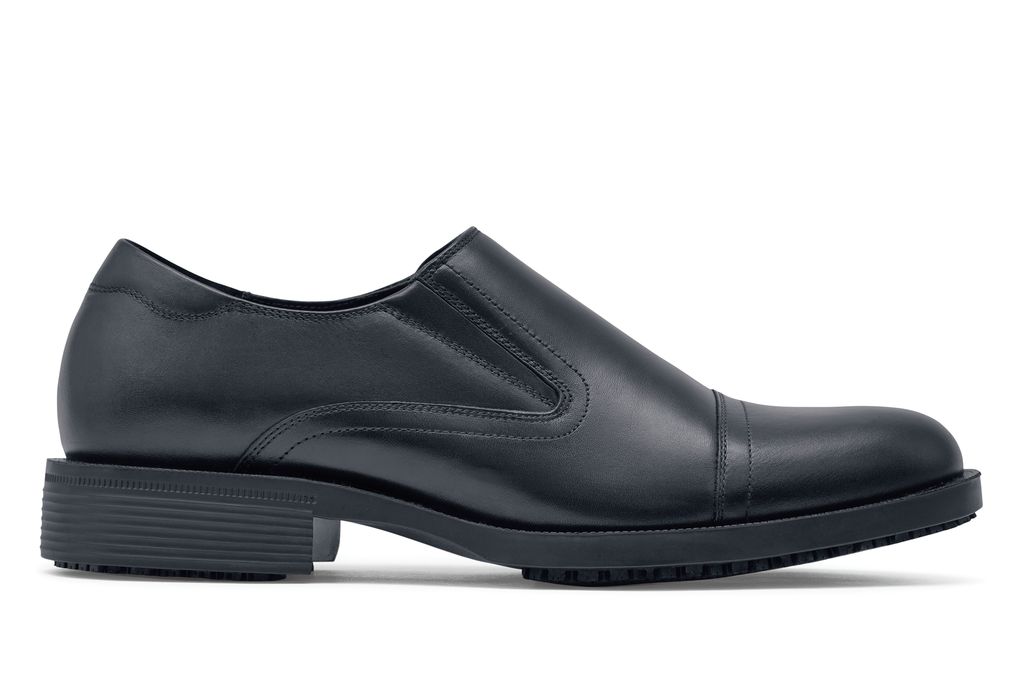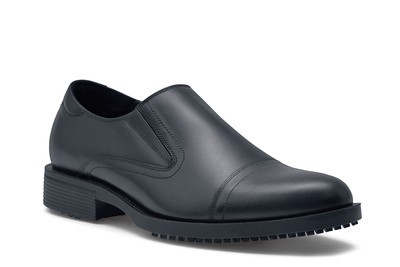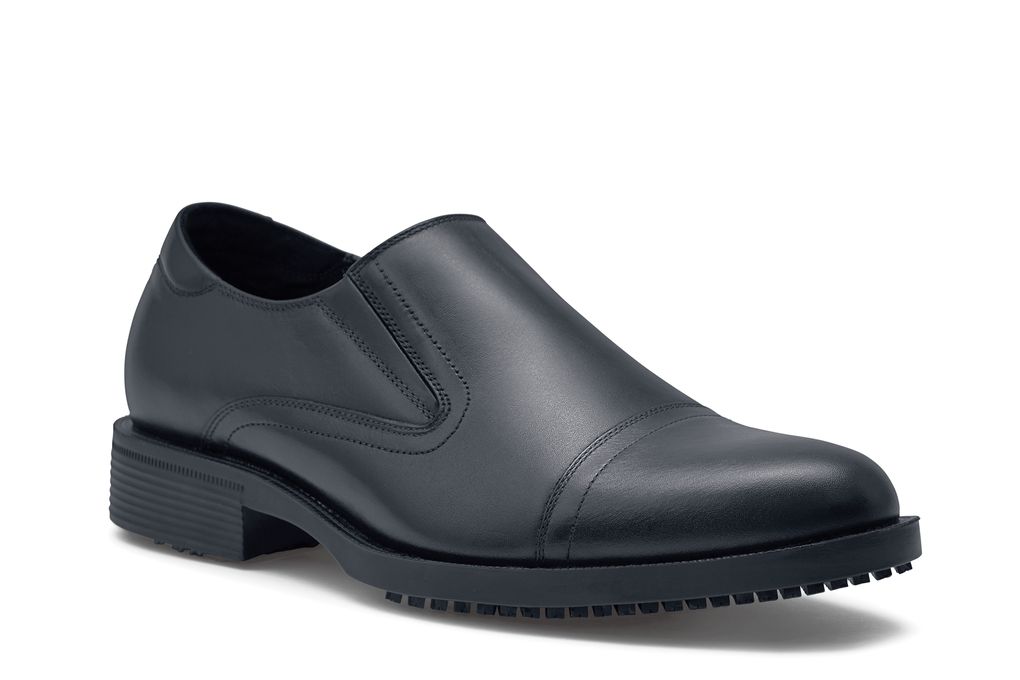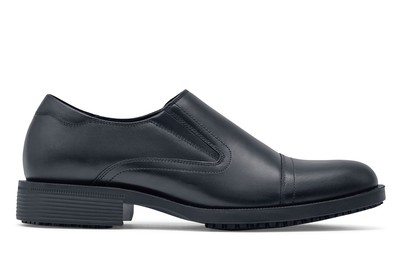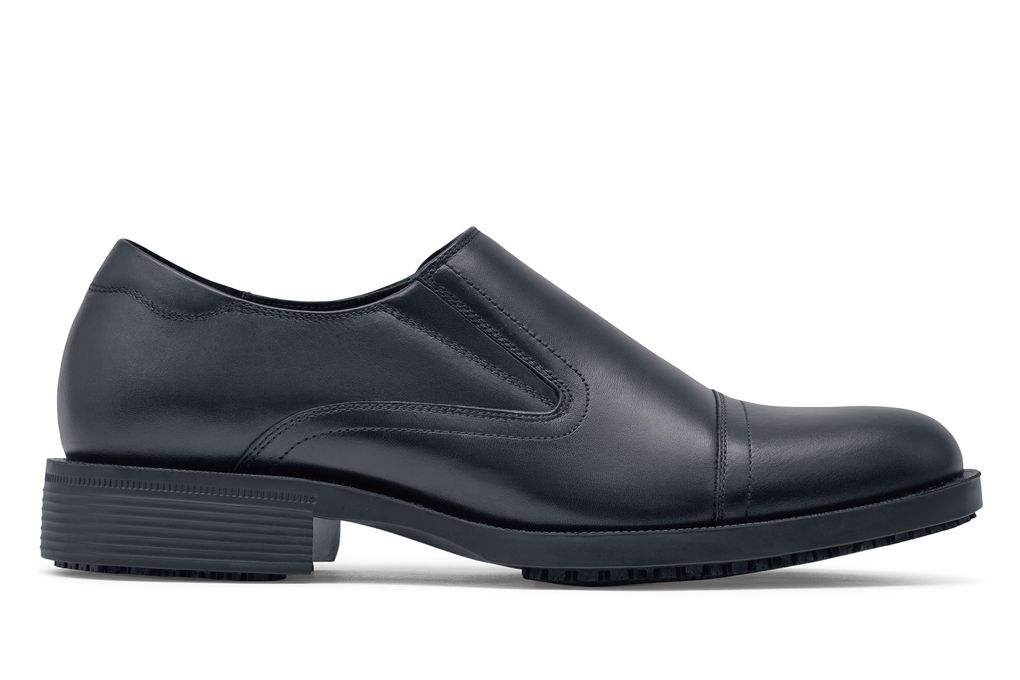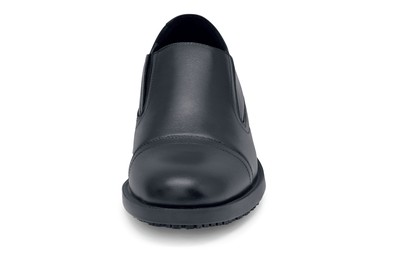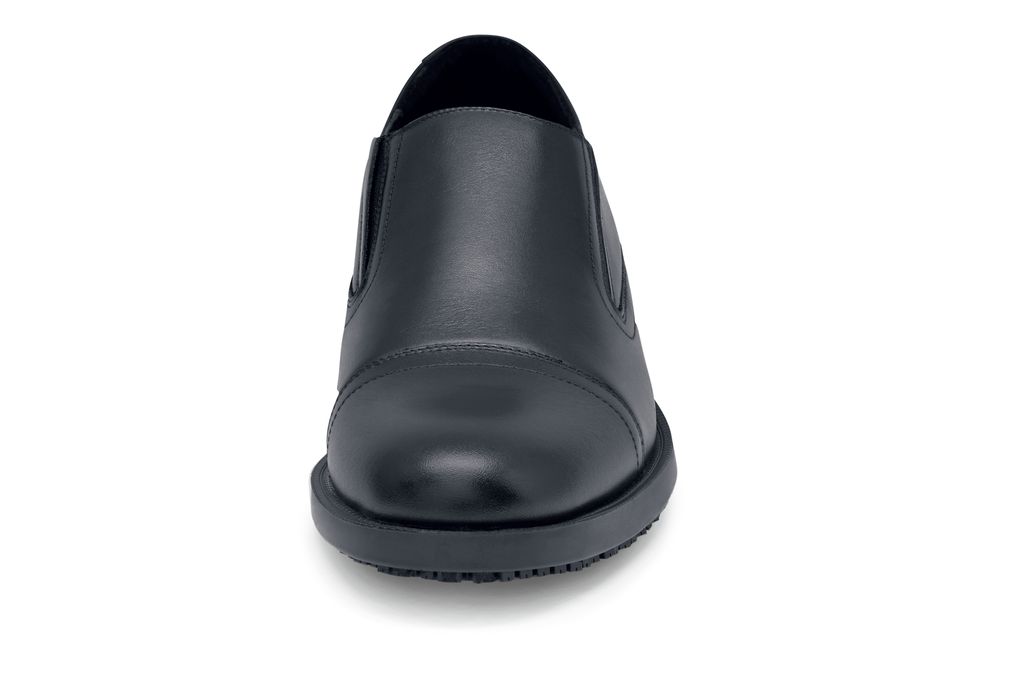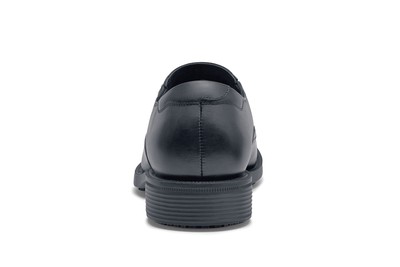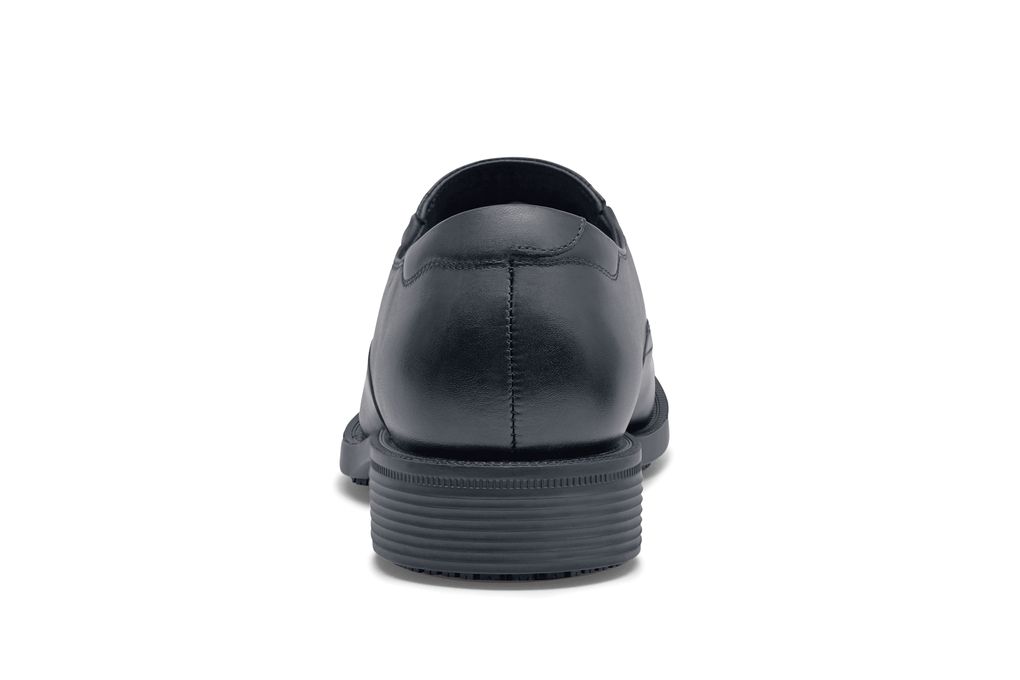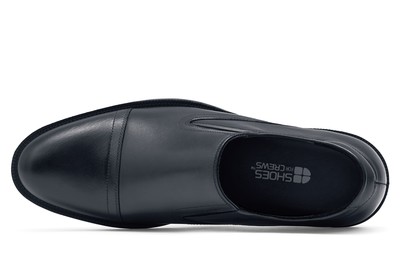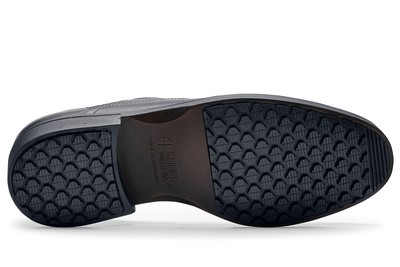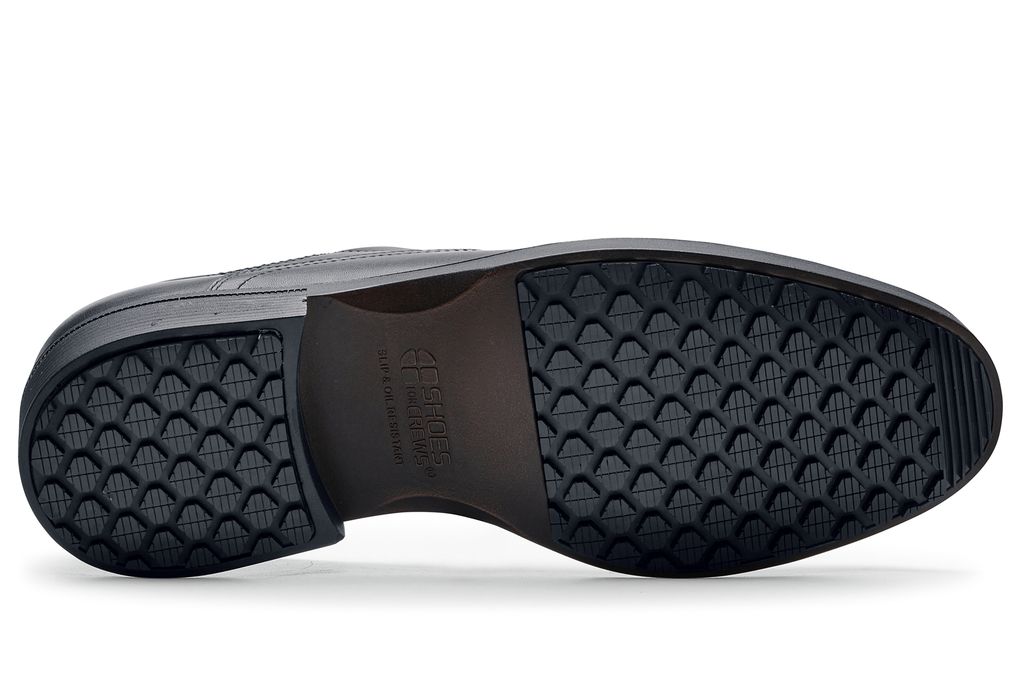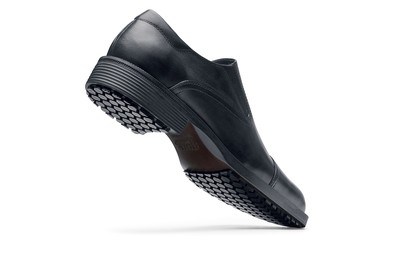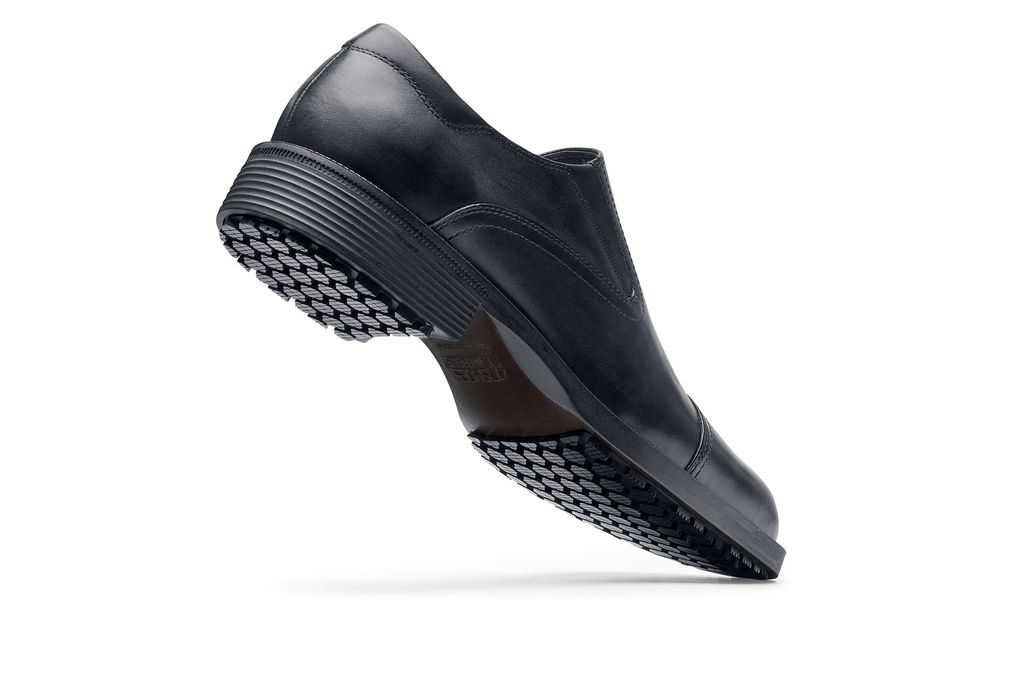 Statesman
Men's Black, Style #1202
This elegant leather slip-on can go from boardroom to backroom, keeping you safe and comfortable no matter what's on the agenda.
Water-resistant
Treated to repel liquids from the surface.
Tailored Fit
Slim-fitting design ideal for narrow feet.
Other Features
Padded collar
Steel shank
Slip resistant
Water-resistant leather upper
Cushioned footboard with leather-lined dual-density insole
I'm a big boy, so shoes generally don't last me very long. No joke, normally within three months it's time to order more shoes. I have had multiply pairs of these and the Senator (dependent if I wanted to tie my shoes that day,,,lol), and these are by far the best shoes I've ever worn in a restaurant/hospitality setting! Not only do they fit, feel great being on my feet for 10-14 hours a day, bit they look amazing for a FOH setting as well. I LOVE THESE SHOES!! I switched jobs a couple of years ago (to teach Culinary Arts and Hospitality at a college level) and took a big pay cut in doing so, which meant I needed to find an alternative to these shoes. HUGE MISTAKE, back to every three month purchases again. Won't make that mistake again.
Jason Cobb May 21, 2017
Love my shoe and the service i am going to order another color soon.
william Solomon Jr. April 19, 2017
I love these shoes! I am on my second pair. The first pair lasted about 5 years. I only wish that they made my size in brown as well....
Ryan Jensen Automotive Service Director March 18, 2017
The shoe is great. The only thing I don't understand is,these shoe are for people that are on their feet all the time. The soles are hard and need cushion in them. Besides that, I love the shoe. Eventually you get used to them but definitely hurts your feet the first week.
Jim Metts Conference Services November 21, 2016
Im a bartender, i usually do anywhere between 10-40 covers a night. My first pair of senators are on their last legs at 2.5yrs of 4-10 miles a day. They gave me blisters and hurt for the first 6-10 days. They have been the most comfortable work shoes I've ever worn after that first week and a half. I used to go through work shoes every 8 months. Doesn't matter what brand, I've tried dansko's and lots of others, for the amount of grip the sole provides, the senator's are the most comfortable and long lasting pair of work shoes I've owned. I'm back to buy another pair but I'm going to try a different style. I just want to reiterate how good durable these shoes are, they saved me $150+ because they lasted so long, they tripled the length of time of any pair I had before. Also the sole is extremely grippy and does a great job in oil, I've never slipped in them and wet floors are a non issue.
Chris Gomez Bartender July 22, 2016