Bridgetown
is rated out of
5
by
30
.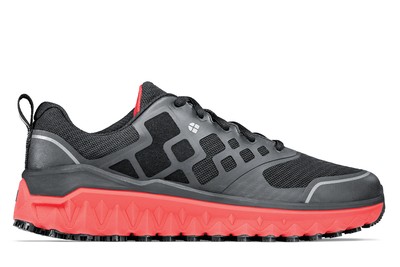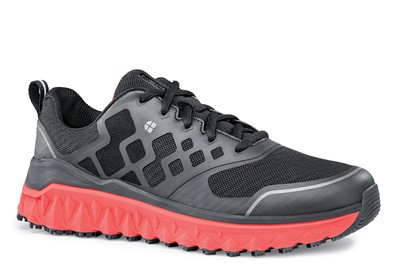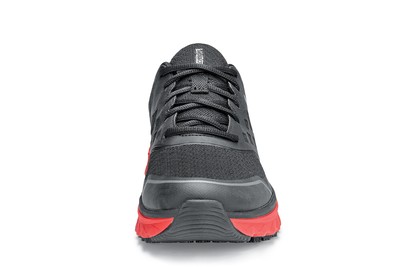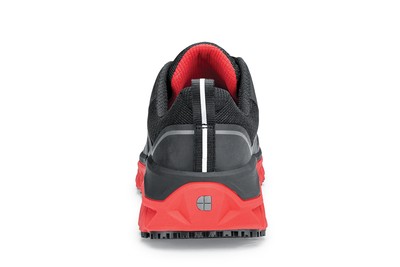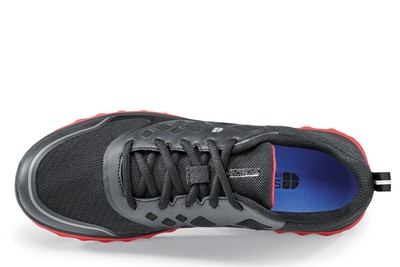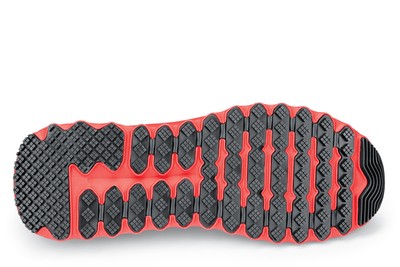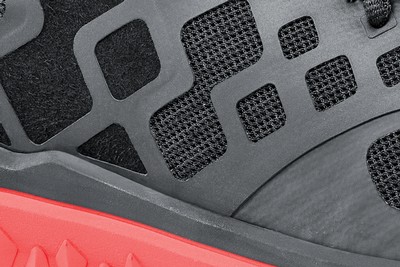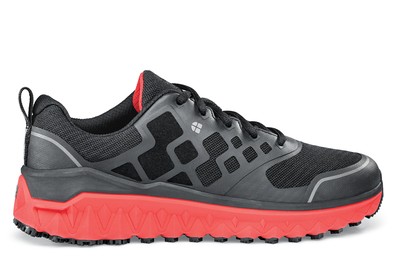 Bridgetown
Men's Black + Red, Style #25013
Also Available
Slip Resistant
Superior SFC slip-resistant outsole.
Water-resistant
Treated to repel liquids from the surface.
Extra Cushioning
New insole technology and cushion construction that provides greater comfort.
Natural Fit
A default fit for most sizes of feet.
Lightweight
Lightweight foam compound that makes each step easier.
Ventilated
Strategically placed openings to help keep feet cool.
SpillGuard
A protective membrane lining that helps ward off hot liquids.
TripGuard
Decreased trip hazard zone to allow fluid movement between slippery environments.
Flex Tread
Groove pattern on the outsole that provides comfort by mimicking the foot's natural movement.
Clog-Resistant
Wider spaced traction lugs don't let dirt and debris get stuck in the outsole.
Other Features
Padded collar and tongue
Slip resistant
Weight (per shoe): 10.4 oz.
EVA INFUSED™ midsole
Synthetic, mesh upper
Heel pull loops
Non-metallic
Rated 5 out of 5
by
Maribel G.
from
I bought these shoes for my dad since he is a dietary chef and is on his feet all day. He absolutely loved them! He said they are the most comfortable shoes he's ever had. It was such a great feeling knowing I finally found my dad some shoes that are perfect for him specifically for the work he does all day. He is usually a size 9 but because they did not offer the shoes in wide, I just bought him a half size bigger and he said they were perfect. Whenever those shoes run out, I will definitely come back here and purchase him another pair. Amazing shoes!!!
Date published: 2018-04-04
Rated 5 out of 5
by
Bian L.
from
this is my opinion after 2 months of use. it is very comfortable. very light so your legs/feet don't get tire. fits perfectly. the insoles/cushioning may be too light for some, using another layer of gel-insoles should solve that problem easily. any problem that can be solved by gel-insoles is not a problem. very happy with this purchase.
Date published: 2018-07-17
Rated 2 out of 5
by
braingamer47
from
Adequate
They were comfortable at first, but the left shoe started making an annoying "popping" sound on each step around day 3. The sound and feeling from said popping were very annoying. They were supposed to replace the Marathon shoe, but these come nowhere even close. They have a much cheaper feel and much less cushion and support as well, but the same price tag. I bought some $25 Sketchers at a bargain outlet that are much more comfortable, but sadly don't have the same grip. At least I can walk in the cheap Sketchers.
Date published: 2018-10-22
Rated 4 out of 5
by
Crispy
from
Great shoe, wet socks
Wore these shoes for a little over a month while working 5-6 days in a food court of a big retail store. The shoe itself was super comfortable and fit my foot which I found delightful since most shoes are normally not wide enough for me. The only downside I found was when I would be washing dishes at the end of the night, the mesh on the toes, while very breathable, would let in most of the water that was spilled on it leaving my socks wet by the end of the night. Overall a great shoe, the mesh/wet socks was just the downside for me.
Date published: 2018-12-12
Rated 3 out of 5
by
Gene B.
from
These shoes are very comfortable and light. Great for being on your feet for more than 12 hours a day. However the only down fall with this shoe I think is the sole I only had the shoes for 6 months and the sole is falling off already.
Date published: 2018-05-01
Rated 5 out of 5
by
Min K.
from
Unbelievable shoe , too light and super comfortable !! I love so much , very good moving in my work. I was wearing all the throughout season, especially, amazing support in winter season even my place is a lots of snow fall. Thanks for The quality product !! I will do second order soon !
Date published: 2018-03-04
Rated 2 out of 5
by
Adam2270
from
looks aren't everything
Recently purchased these as they are the closest to the Marathon that was discontinued. Loved the Marathon's cushioned feel and these were advertised as having extra cushioning. Sadly, they did not. Even one of my bosses was surprised to see they lacked any noticeable cushioning effect at all. Back they went. Wish they had lived up to the claims as they look great and were well ventilated... just too harsh on the joints.
Date published: 2019-02-11
Rated 4 out of 5
by
Charles V.
from
The Bridgetown shoe is a step down and comfort from the marathon but it is a great alternative for a less bulky shoe. I did not care for the red and green person once I ordered them in immediately exchange them for the black that look much better .
Date published: 2017-07-03