SFC Luna
is rated out of
5
by
29
.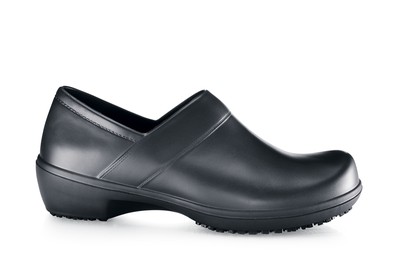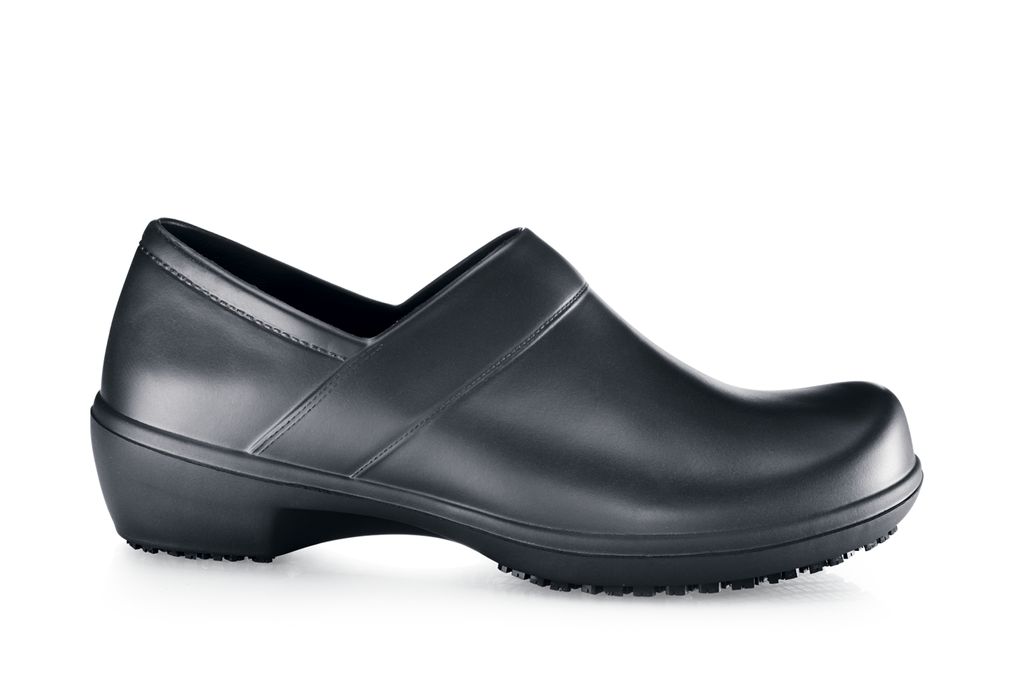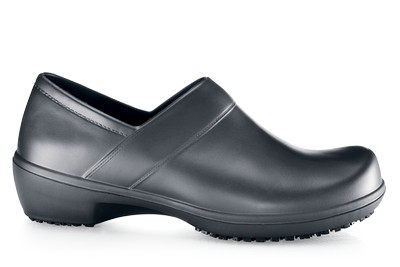 SFC Luna
Women's Black, Style# 4009
Description and features:
Easy style and comfort plus all the benefits of our patented slip-resistant outsole.
Slip Resistant: Superior SFC slip-resistant outsole.
Water-resistant: Treated to repel liquids from the surface.
Natural Fit: A default fit for most sizes of feet.
Rated 4 out of 5
by
Nikki B.
from
I work on a concrete floor and pull heavy loads so I needed something that wouldn't slide. These shoes fit the bill, my only issue is that they have air holes on the side, so when I walk quickly the noise that it makes isn't very polite. I work with the general public also so at times it is very noticeable. Other than that and the fact I wish they were safety toe (all those are not in dress code or I would have gotten a pair) they are good shoes. I wear them for 8-12 hours at a time and my feet are not sore from the shoes. Great product!!!
Date published: 2015-02-03
Rated 5 out of 5
by
Gina K.
from
These shoes are the most comfortable work shoes I've ever stood in. The cushion is amazing. I purchased these during our heavy crawfish boiling season, which leaves a lot of water on the floor and splashing onto feet. These kept my feet very dry, for the exception of when I squeegied the water too vigorously and it soaked into the vent holes on the arch side. However, they are most certainly not comfortable if you have a wide foot. It suggested ordering a half size up, but this was still not enough room to not pinch. It also seemed a bit short compared to the 9s I use for running. The Hawk 2 8.5s I had a few years ago seemed just as long in the toe box. All in all, it's a great shoe if you don't have wide feet.
Date published: 2015-11-04
Rated 5 out of 5
by
Anonymous
from
This is the first time I buy this style. I have brought 2 pairs of the Froggz pro, but I use them all the time, so I brought this pair for work only, and when I got them I immediately put them on and went to work, and their great. I'm on my feet 8 hours a night, and running around the hotel at times, and these are the perfect shoe. I got these for work cause they look nice with my work outfits.
Date published: 2016-09-16
Rated 5 out of 5
by
Sharon I.
from
Nice looking pair of slip resistant shoes. I stand on my feet for 8 hours in food industry bakery fast food. Slip resistant is good. No arch support. Half way thru my shift, my feet are sore. At the end of my 8.5 hour shift I am hobbling back to my car. If you are wide width, go with the wide with. 1/2 size to 1 size larger is recommended as your feet will swell during the work day.
Date published: 2015-05-30
Rated 5 out of 5
by
Sheila M.
from
My Luna's are very comfortable. I thought it would take several wearings to work them in but was pleasantly surprised in the automatic comfort. Although I feel they are a half size too large, I just wear thicker socks. These are my second purchase & have not been disappointed thus far. I do plan on another purchase in the near future. Sincerely, Sheila Moore
Date published: 2016-05-16
Rated 3 out of 5
by
Anonymous
from
This shoe was too narrow, it needs to be offered in wide width. It would also be better in leather because it made my feet very hot at work. I did like how cushioned the inside was because my feet kill me as I stand eight hours a day. I also liked how lightweight the shoe was. If you have a narrow foot, you would probably like this shoe.
Date published: 2017-04-29
Rated 5 out of 5
by
Debra P.
from
The shoes are very comfortable. When I received them, I thought I was going to return them. After wearing them a couple of times to work, I fell in love with them. They feel and look great on my feet. I will definitely order again. My feet don't hurt anymore! Thank you Shoes For Crews..
Date published: 2016-09-04
Rated 2 out of 5
by
Kellie S.
from
His is the first time I have not loved my purchase, I am sending them back but to buy a different pair. I love your shoes and just picked the wrong one for my foot. Everything else is wonderful, got them quickly, they are high quality and no-slip just not for my foot.
Date published: 2016-09-03