SFC Froggz® Classic II
is rated out of
5
by
125
.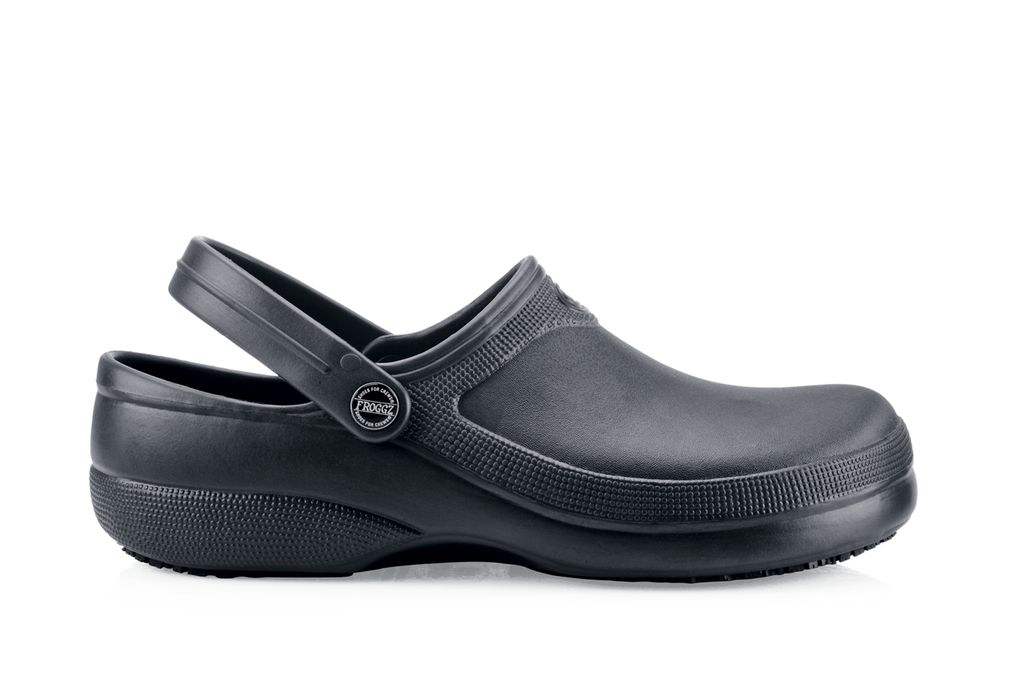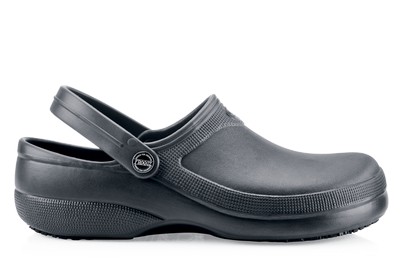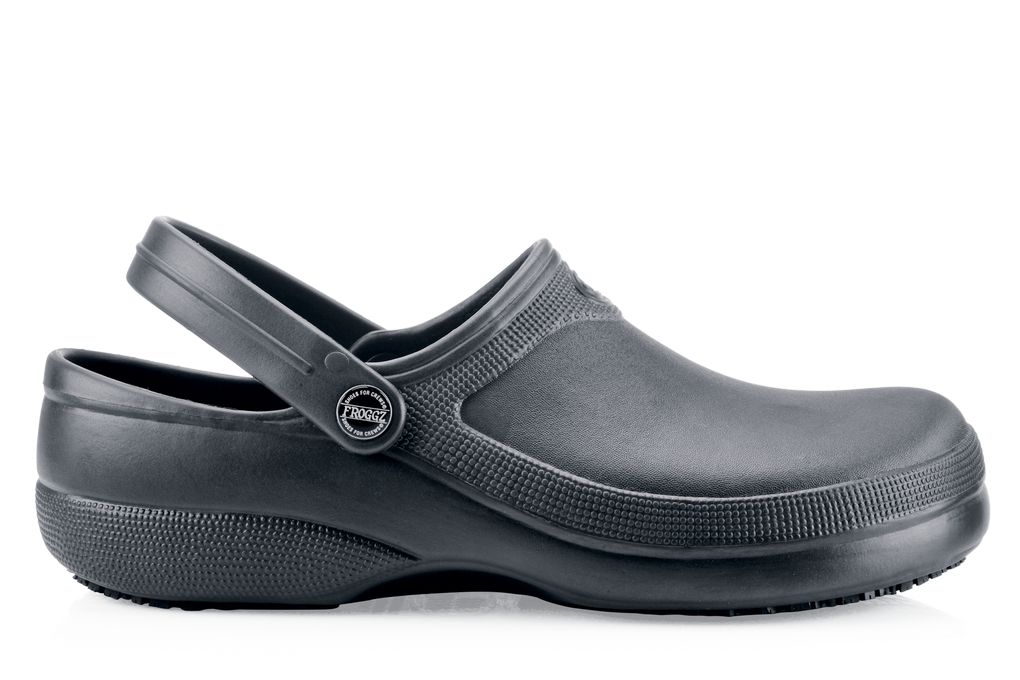 SFC Froggz® Classic II
Black, Style #5010
Easy on and off with long-lasting comfort and slip resistance.
Slip Resistant
Superior SFC slip-resistant outsole.
Water-resistant
Treated to repel liquids from the surface.
Natural Fit
A default fit for most sizes of feet.
Other Features
Pivoting strap for heel support
Ventilation holes along inside of shoe
Slip resistant
Vegan
Ultra-lightweight and water-resistant
Made of a durable, high grade EVA/rubber blend
Rated 4 out of 5
by
Anonymous
from
My husband is a Chef in a Hospital so he is constantly on his feet. I always bought him sneaker with safety step technology but he saw his favorite TV Chef wearing a pair of these and of course he had to try them. He actually prefers these over sneakers. My husband is flat footed and is heavy on his heals so about every six months or so I do have to get him another pair because he is wearing out his heal. Several times his strap broke but that did not stop him from wearing them. These do come smaller, he normally wears a size 14, I have to buy him a 15, but I find that is so even for everyday crocs you would buy at a normal store as well. Hope this helps, Happy Non Slipping
Date published: 2014-02-14
Rated 5 out of 5
by
Patti L.
from
These work shoes have been a lifesaver! I have had three surgeries on my feet and ankle and I have tried multiple non-slip shoes to work in the kitchen with no luck. I do use an arch support insert in them and my chronic pain is lessened greatly. I probably will purchase another pair to wear around the house. Also, this is the first pair of clogs I have ever been able to wear without my foot moving around while walking from too much space in the clog. They must be a bit narrower then crocs and other brands. Great cushion and comfort!
Date published: 2018-01-07
Rated 5 out of 5
by
Jamie r.
from
This was my first pair of shoes for crews ever. I was buying new shoes for work about ever six months until I found these. These shoes have lasted 2 years!!!! The only thing wrong is the sole is detaching from the shoe a little. Nothing some super glue couldn't fix. The froggz are so unbelievable comfortable and light weight. I can wear them on a 16 hour shift without my feet hurting. I tried other clogs but nothing stacks up to these shoes.
Date published: 2017-04-21
Rated 5 out of 5
by
charles m.
from
I used to be a Croc fan but as the crocs wear out they get REALLY slippery when walking on wet floors. A patient of mine was in the office recently and she was raving about her new "Shoes for Crews" work shoes and how comfortable and non-slip they were, so I decided to try a pair......I LOVE THEM!!! They are comfortable, light-weight, have a decent arch support (but there is room for me to slip in a beefed-up arch support to better improve/support the longitudinal arch), and they don't slip even a millimeter when I am working on my patient's backs. And when I step on my wet, painted garage floor on my way into the house....NO SLIPPAGE AT ALL...YIPEE!! I would recommend these shoes to anyone!!
Date published: 2015-09-30
Rated 4 out of 5
by
Ronald S.
from
I decided to buy these shoes because the price seemed right and free shipping was offered. As of this writing, I have only tried them on but the fit is good and I am satisfied with it. Several previous reviewers comment these shoes run small, but my optimal size is 8½ and no half sizes are offered so this was not much of an issue for me. (I went for size 9.) My biggest reservation was these would be a cheap, knock-off imitation of the Crocs® I currently wear. These Froggz® are similar in style to be sure, but they are well-made. I especially like the vents in the toe box; the Crocs® do not have any, and it does affect my foot odor. I liked the way these were shipped too: not too much packaging material to discard and the bag hangs nicely on a hook in my closet. I say, "It's a buy!"
Date published: 2014-06-16
Rated 5 out of 5
by
The upsell queen
from
Why?!!!
WHY are these discontinued? !!! I'm trying to get a new pair since these are the BEST server shoes EVER!!! The Zinc are NOT the same. I can tell by the picture that they're too narrow in the toe area. I have bunions and these Frogz are the ONLY type of work shoes I have found that keep me from having foot pain after a shift. I'm seriously bummed out.
Date published: 2018-09-10
Rated 5 out of 5
by
Heather S.
from
I bought this style 5 years ago and they are just now wearing out! That's awesome for the price and considering I bought a similar pair from Wal-Mart for the same price that didn't last 2 months on my restaurant's floors. I walk through grease and water constantly and have never sipped, it's just like walking on a dry floor! I always recommend your brand to my co-workers. I love the shoes but am going to try out the SFC Froggz Pro next. I wear a 9 1/2 had to buy a 9 due to my feet being so narrow.
Date published: 2013-01-23
Rated 5 out of 5
by
Ying M.
from
It looks very nice.And it is very light,just like wear nothing but socks.It is slip and oil resistance very well.I work in a restaurant as a server.It is exactly what I need.The only thing is the heel is thin.At the beginning,I feel my feet hurt.But when my feet get used to the shoes.It will be Ok.It is still great!I bought a pair of shoes for my husband today.It is a precessional company!The shoes worth the prices! I recommend a friend to buy a shoes from this company today.
Date published: 2014-08-07