Ollie II
is rated out of
5
by
17
.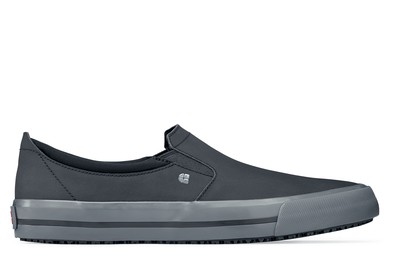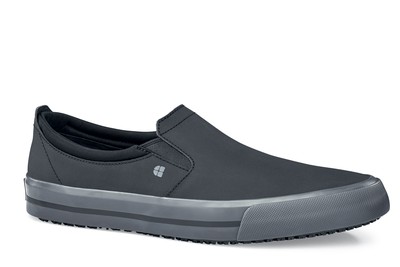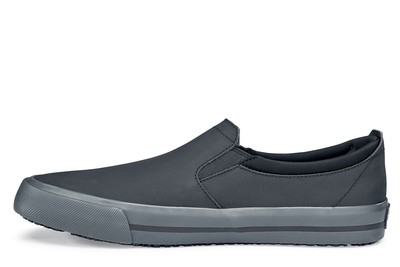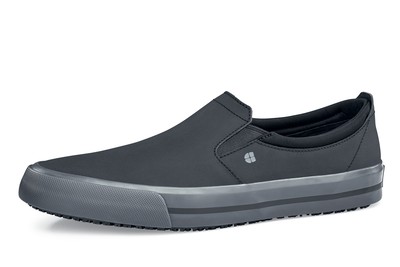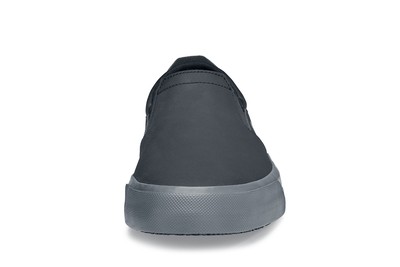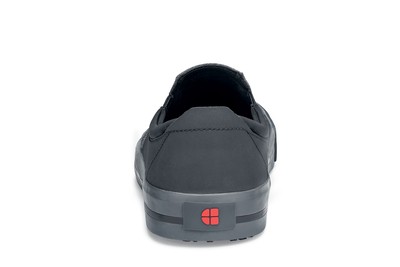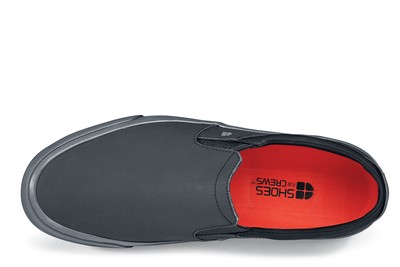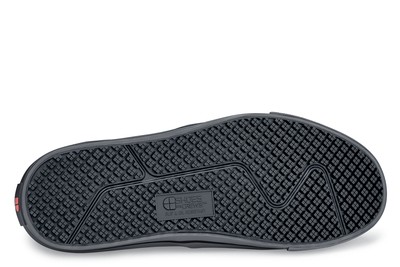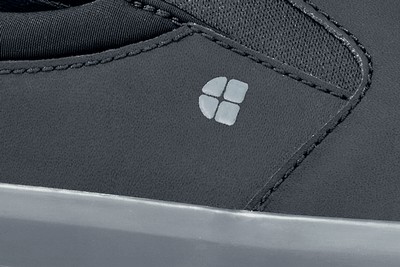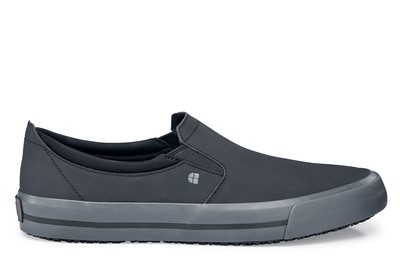 Ollie II
Hombres Negro + Gris, Estilo #31410
Also Available
Resistente al agua
Treated to repel liquids from the surface.
Ajuste natural
A default fit for most sizes of feet.
Other Features
Collar acolchado
Antideslizante
Peso (por zapato): 7.4 oz.
Parte superior de cuero
Plantilla con goma EVA
No metálica
Rated 2 out of 5
by
Tommy
from
"Wide" is narrower than original Ollie "Regular"
The widest part of the toe box on the Ollie II is also not as far forward as the original Ollie. If you go up a half size to move the toe box forward, then the shoe is loose. The tongue rides higher on the arch, so not good for high arch/instep feet. Unfortunately, SFC appears to not have a true "wide" any longer. The leather is matte, which gives the appearance of cloth, so not really a Front of House fine dining server shoe. The non-slip sole is still the best in the business, so I'll try a shoe stretcher and some shoe polish. Very disappointed that SFC saw fit to change the shape of this style.
Date published: 2018-10-12
Rated 5 out of 5
by
Cj W.
from
Let me start out by saying I wear these shoes outside of work, more than I wear my other shoes! They are some of the best shoes I've ever bought!!! Great style and function! Perfect surfer/skater shoes insane amount of grip! I bought them in blue because of the white sole around the edge! Rocked em like that for a while until my boss was tired of everyone saying me having colored shoes was unfair so I dyed them with fabric paint so I could still have the white sole! I actually just ordered another pair(not because my other ones are done, their still going strong) just because I wanted a fresh pair! And I'll probably order yet another pair to keep blue!! Best shoes ever! Shoes for crews FTW
Date published: 2018-01-25
Rated 1 out of 5
by
Josh
from
TERRIBLE QUALITY, ZERO VALUE
I've been wearing Shoes For Crews for 15 years. In that time it is safe to say that I've owned at least 10 pairs of "The Ollie". It has always held up to everything perfectly, and lasted as long as they possibly could. This "Ollie II", however, is a $20 shoe being paraded around at a $50 price point. The leather and stitching are both of TERRIBLE quality (Is this even leather? It feels like wet suit rubber!) The rubber along the outside is now two pieces instead of one. Even the insole is now WAY worse!! Instead of the rubber/gel feel they once had, its now low quality FOAM. Do not buy these shoes. A major rip-off and an even bigger disappointment. Thanks for the good times SFC, all good things must come to an end.
Date published: 2018-09-14
Rated 4 out of 5
by
Anonymous
from
Great light weight slip on. Comfortable width and length. These shoes are flat. I would strongly recommend to change the insole with anything else.
Date published: 2017-11-30
Rated 2 out of 5
by
Clayton B.
from
Always loved SFC's Ollie shoe. Unfortunately, the remodeled version has a drastically different fit. I went from a perfect fitting 10 Ollie to a 10.5 WIDE Ollie II which is still very uncomfortable in the heels. Not sure why they felt the need to butcher a solid and dependable shoe, but I cannot recommend this shoe. Runs very small and narrow, and uncomfortable.
Date published: 2018-02-24
Rated 5 out of 5
by
CLARK G.
from
This is without a doubt the best shoe I have ever had. It is lightweight, comfortable, and has great slip resistance. I have bought over 20 pairs for myself and employees. Thank You Shoes for Crews!
Date published: 2017-07-19
Rated 5 out of 5
by
Kevin D.
from
These are my preferred slip and oil resistant shoes for work I always buy. Most reliable and durable than other cheaper brands and best bang for your buck in my opinion. good deal for the money
Date published: 2018-05-28
Rated 4 out of 5
by
Jake B.
from
the 9.5 fits more like a ten. they are comfortable and feel good for 12 hour shifts. not very supportive on the ankles but overall a good work shoe.
Date published: 2018-07-22