The Bronson
is rated out of
5
by
9
.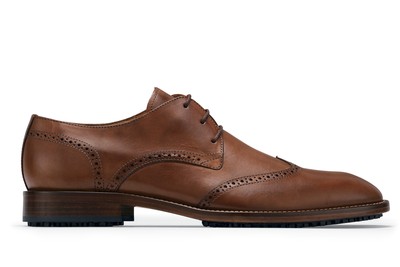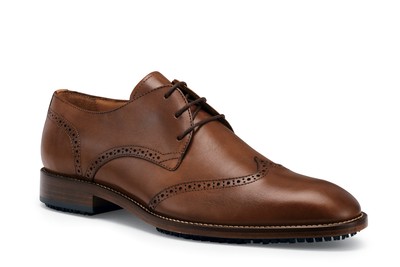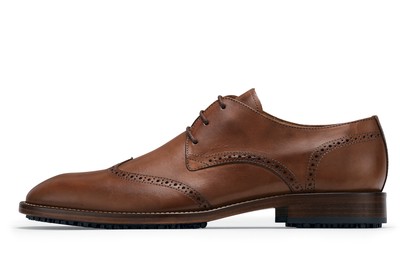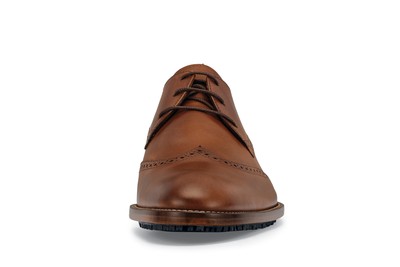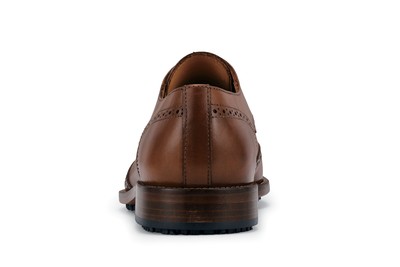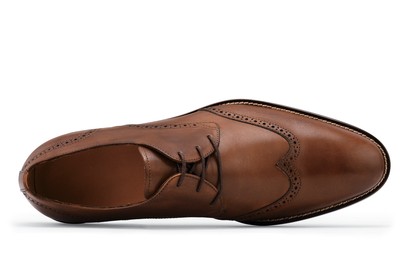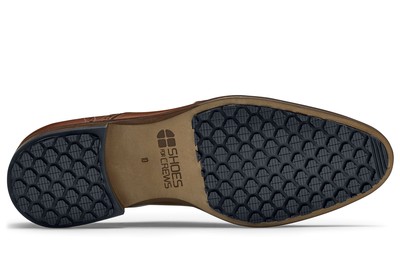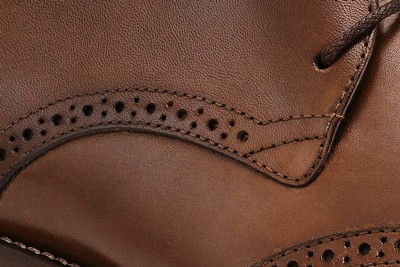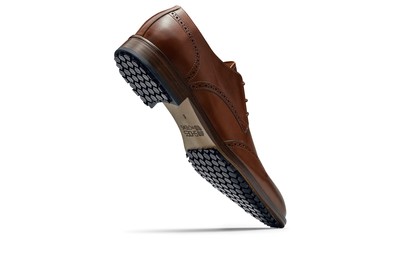 The Bronson
Hombres Marrón, Estilo# 53778
Descripción y características:
Hecho a mano con cuero de primera calidad de grano completo, el Bronson tiene un clásico diseño de punta de ala con detalles de cuero calado, y cuenta con una suela de SFC que es referencia en resistencia a resbalones para ofrecer mayor seguridad. Totalmente forrado en cuero con plantilla de cuero. El Bronson es fabricado por artesanos de una fábrica familiar de Portugal que ha producido calzado personalizado durante más de 75 años.
Antideslizante: Suela resistente a resbalones SFC superior.
Easy Clean: Superior SFC slip-resistant outsole with our patented clog resistance built in.
Resistente al agua: Tratado para repeler líquidos de la superficie.
Rated 3 out of 5
by
Cab1e
from
Beautiful shoe that doesn't hold up.
First off, let me say that its ABOUT TIME SFC had a slip resistant shoe with some class. Stylish and elegant for the Dapper Dan in the workplace. My complaint is this shoe did not last but 6 months. The slip resistant tread has separated from the sole on both the inside of the heel and on the ball of foot on both shoes. They're a daily wear for10 to 12 hours a day, 5 days a week. Maybe you'll have better luck than I did. For $200, I expected better craftsmanship.
Date published: 2020-11-22
Rated 5 out of 5
by
Joel
from
Finally!
Very comfortable high quality shoe that is not clunky! Finally SFC has a show that looks cool and has the profile of a NORMAL shoe
Date published: 2019-10-20
Rated 5 out of 5
by
Jordan F
from
Best looking Nonslip dress shoe - PERIOD
Finally shoes for crews has partnered with a quality leather dress shoe company to make a dress shoe that is certain to upshow anyone. Very stylish and fits true to size unlike many other SFC shoes. I manage a restaurant and the only downside is the comfortability. Like any other all leather dress shoe it takes time to wear them in and I'd be lying if I didn't mention the blisters for the first few weeks when walking 5+ miles a day in them
Date published: 2020-06-28
Rated 5 out of 5
by
Brian88
from
Exceeded Expectations
I decided to treat myself to these very nice shoes after wearing standard ones for years. I was beyond impressed. I've tried all the dress shoes out there, black, light/dark brown, wing tip, etc. These are so handsome, I love the stitching detail and the heal,superb quality as well. While managing the restaurant for 10+ hours a day, I can proudly wear these, and look sharp while doing so.
Date published: 2020-07-29
Rated 5 out of 5
by
Boober
from
Very Comfortable
Well worth the money. Comfortable for a 12 hour shift. And they look nice also.
Date published: 2021-04-10
Rated 3 out of 5
by
Josez
from
Good looking
Buyer be aware. The shoes are really hard, I got blisters in my first time wearing them. It takes a while to wear the leather. The quality is the best out there.
Date published: 2021-09-20
Rated 5 out of 5
by
Gmdj
from
Beautiful
Beautiful shoes. Wow. And super comfortable. High quality. Very striking. They grab alot of attentions.
Date published: 2020-09-07
Rated 5 out of 5
by
Anonymous
from
please keep these availible
best shoes for the job hands down style looks and comfort please do not stop selling them
Date published: 2020-11-07