CEP Infrared Recovery Compression Socks (1 pair)
Men's Black, Style# S7160
NEW!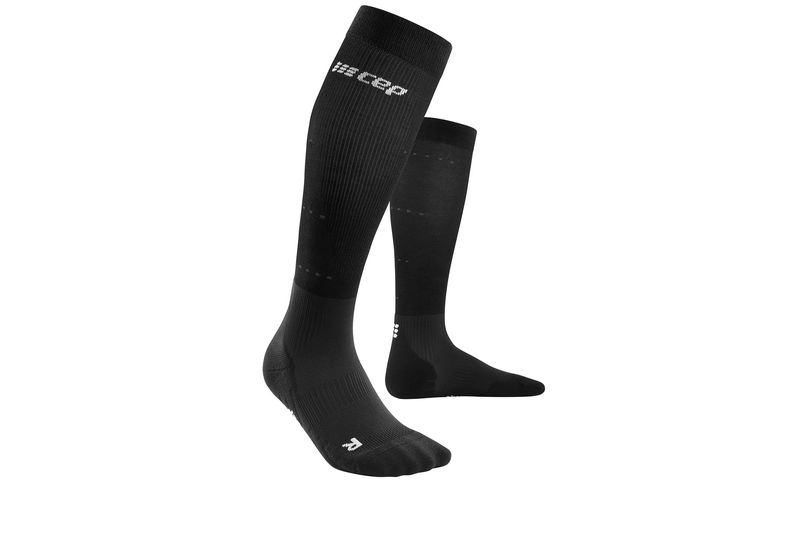 CEP Infrared Recovery Compression Socks (1 pair)
Men's Black, Style# S7160
Features
Circulation promoting compression profile in combination with SMART INFRARED for non-stop fresh-feeling legs

Fast recovery after physical exertion thanks to accelerated removal of metabolic waste

Anatomical design and high quality blend of materials provide superior comfort

Made with 73% polyamide, 18% spandex & 9% lyocell

Yarn integrated bioactive minerals reflect infrared rays of the body (thermal radiation of the body) back on the skin

Reflected infrared rays, warm the body and support blood flow as well as regeneration

Improved blood circulation for optimal supply of nutrients to muscles

Optimum support for calf muscles

Supports proprioception by stimulating skin receptors

Dampens/reduces muscle vibrations during movement

Anatomically adapted foot section

Enhanced performance

Faster recovery and better warm-up

Maintains muscle function

Stabilizes musculoskeletal system and reduces the occurrence of injuries

Forms a protective shell around muscles and stabilizes joints

No slipping, no blisters
Who Doesn't Love a Good Discount?
Get discounts, special offers, and new arrivals delivered to your email.